by Alex Z. Salinas (B.A. '11)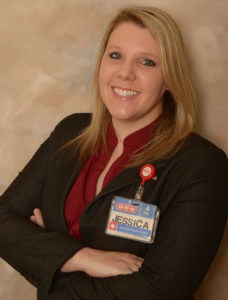 Shortly after Jessica Johnson (B.S. '09, M.S. '11) came to St. Mary's University, she set a goal for herself: win "Industrial Engineering Student of the Year" her senior year.
To achieve that goal, Johnson would have to put in hard work — and lots of it.
"An Industrial Engineering degree is difficult and required me to give up a lot of weekends for homework and studying," she said. "On top of this, our senior year we had to do a senior design project, where you find an internship, get a company to let you do a project, and then present (in front of faculty and classmates) at the end of the year."
With her parents in the audience, Johnson's presentation was about analytical hierarchy process and bridge deterioration for a Texas-based infrastructure company.
She knocked it out of the park.
Johnson's classmates gave her a standing ovation, and she went on to win Industrial Engineering Student of the Year. Her name is inscribed on a plaque in the Richter Math-Engineering Center.
"Winning the award was my fondest memory from St. Mary's because it validated all the late nights and weekends I'd given up to not only earn the degree, but excel at it," she said.
With a master's degree under her belt, Johnson recently reached her fifth year as an industrial engineer for H-E-B in San Antonio, where her focus is on process improvement.
In her first four years with the company, Johnson worked in the San Marcos retail support center. It was there she noticed that products were inefficiently placed on pallets.
"When pallets are built for the store, they follow a specific path," she said. "In our original path, like items weren't necessarily together. For example, you could start building a pallet with detergent on the bottom, move on to other products, and then, because all the detergents are not together in the layout, end your order with more detergent on top."
When pallets reached the stores, employees would have to reorganize product before stocking them on shelves, which cost valuable time.
Johnson proposed a new layout where like items would be grouped together.
With her proposal, and subsequent implementation, Johnson said "savings for the store are estimated to be significant."
She credits her time at St. Mary's for her innovation and career success — especially in her male-dominated field of work.
"The biggest lesson I learned was that if I set the bar high enough and was willing to put in the time and effort, I can achieve my goals," Johnson said. "People took notice, and new doors opened."