MBA student is on a path to help others
by Carmel Tajonera
Meghan Garza-Oswald is all about helping people in a way that is life changing and sustainable. But life has taken her on a winding, unexpected path to get there.
She will be among the first graduates of The Greehey MBA program, but she has already earned her Master of Public Administration, worked as an elementary school teacher, interned at the White House, served the city government as a policy aide and led a taskforce on issues of homelessness. Oh, and she was a ballerina, too.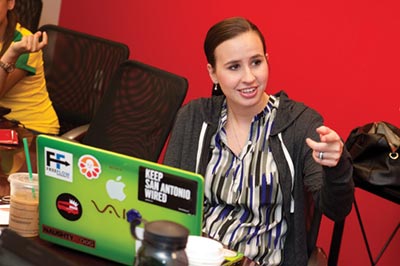 She started getting closer to the root of her life's work when she became an executive with Haven for Hope, which is a full-service support center for the homeless in San Antonio. There, she realized that experience wasn't enough if she was going to have the greatest possible impact on the community. She needed a graduate degree tailored specifically to driven, ethically minded people like her.
"I see myself creating my own startup from a social enterprise idea or perhaps taking on a larger nonprofit in the future," Garza-Oswald said. "Social innovation, sustainability, corporate social responsibility, ethical leadership — those are all things that I believe in, so the values-based Greehey MBA immediately resonated with me."
Garza-Oswald calls her unique life path "a happy series of coincidences."
"God has placed me in the exact right spot at every single moment of my life to be where I need to be," she said. "And I don't plan to squander it."