Let's Get Started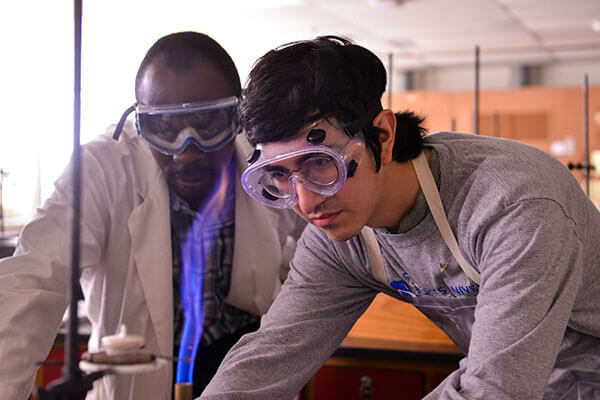 We're excited that you are considering earning a degree at St. Mary's.
But we can't say we're surprised. After all, we've got heart, and we've got smarts.
If you have the drive to work hard in the classroom, and the compassion to take your talents to the community, then it's quite possible that you and St. Mary's will make a winning combination.
---
Checklist
First things first. If you haven't already done so, complete our information request form to begin receiving information from St. Mary's. We'll tell you all about those things you didn't even think to ask.
Next, get your application materials together. A complete application includes:
Application for Undergraduate Admission and Scholarship
High school transcript
SAT or ACT scores
Letter of recommendation
Essay
We run on a rolling admission process which means that we accept applications until a few weeks before the school year begins. But you should apply by December 15 for priority consideration for admission and scholarship opportunities. Review important dates for the application and enrollment process to ensure you optimize your opportunities for admission and scholarships.
---
How to Apply
We're prepared to walk you through the application process step-by-step.
Complete the Application Form
Submit the Application for Undergraduate Admission and Scholarship online or submit the ApplyTexas or the MyCoalition application.
If you have already started (or submitted) an ApplyTexas application or a MyCoalition application to another institution, simply add St. Mary's University as one of your target schools and hit submit.
Please note that St. Mary's University does not have a preference on which undergraduate application students submit. Students who apply via the ApplyTexas, MyCoalition or the St. Mary's University Online Application are equally competitive for admission and academic merit scholarships.
Request Your High School Transcript
Request that your high school send an official high school transcript to St. Mary's University.
Share Your SAT or ACT Results
To review your application, we need to take a look at your official SAT or ACT results. Submit all SAT and/or ACT results; we'll use your best sub-scores across all test dates to determine your best superscore. Our SAT code is 6637; the ACT code is 4158.
Please note that St. Mary's University will not super score across different test types. We will not mix and match the Redesigned SAT with the SAT (CR+M) from the former version of the SAT to generate a new superscore across test types. We will also not mix SAT with ACT results.
Write an Essay
Tell us what's not reflected in the grades and test scores. Who are you? Why is St. Mary's the right place for you?
Request a Recommendation
Ask your counselor to complete a letter of recommendation and submit to the address below or by email to uadm@stmarytx.edu.
Submit Your Materials
Send your supporting materials to:
Office of Admission
St. Mary's University
One Camino Santa Maria
San Antonio, TX 78228-8503
---
Important Dates for first-year students
St. Mary's University has a rolling admission policy. However, priority is given to students who complete the application procedures in a timely manner. You'll benefit from applying early, with greater access to academic scholarships for qualified students.
October 15
Preferred FAFSA submission date
The FAFSA is available each year beginning Oct. 1. Prospective students are encouraged to submit their FAFSA as quickly as possible to make sure they are considered for all types of federal, state and institutional aid they may qualify for. The St. Mary's FAFSA code is 003623.
December 15
Application and scholarship priority deadline
Submit the Application for Undergraduate Admission and Scholarship by this day to receive priority consideration for a St. Mary's scholarship.
March 1
Financial assistance priority deadline
Your FAFSA should be submitted to St. Mary's by this date to be given priority consideration for financial assistance (need-based financial aid).
May 1
Decision day
Across the nation, May 1 is the date by which most colleges and universities ask you to inform them of your plans to enroll. You will receive information from the Office of Admission if accepted to the University on how to submit your enrollment deposit and confirm your intention to become a St. Mary's Rattler. We can't wait to hear from you.