by Alex Z. Salinas (B.A. '11, M.A. '19)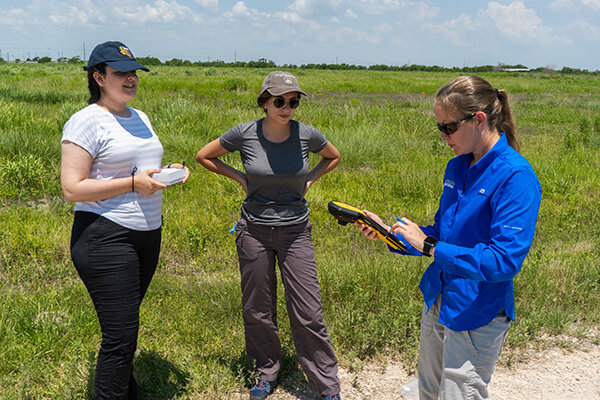 Who knew coyote poop would be the impetus for field research opportunities for St. Mary's University students — and one devoted professor in particular?
In 2019, Associate Professor of Environment Science Melissa Karlin, Ph.D., began collecting samples of coyote scat in select Texas regions, hoping to discover a genetic link to a critically endangered animal: the red wolf.
"The red wolf used to be found as far west as Texas and all the way through the eastern U.S.," said Karlin, who's Ph.D. dissertation was on the spatial ecology of red wolves. "In the 1960s, they were declared extinct in the wild. Today, there are 10 to 20 red wolves in the wild, all located in North Carolina."
Karlin said researchers found a "ghost allele" — one of two or more alternative forms of a gene that arise by mutation and are found at the same place on a chromosome — in coyotes containing red wolf DNA, suggesting past interbreeding between the species.
While coyote populations remain healthy in numbers, the near-extinction of red wolves was a result of "humans killing them, starting in the 1940s, when there was a bounty pretty much on every predator's head, often government-funded," Karlin said.
After receiving permission to set up cameras and survey public lands inland from Galveston and 11 private properties from Houston to La Grange where coyotes are active, Karlin hit the road to do the dirty work — cotton swabs and sealing tubes in hand.
Students who have helped her collect samples include recent Environmental Science graduates Tanya Helbig (B.S. '21) and Chika Onwuzurike (B.S. '21), and senior Environmental Science and International and Global Studies major Regina De La Parra.
"Being part of this hands-on experience really fosters the idea of a liberal arts education here at St. Mary's."

Regina De La Parra
De La Parra traveled with Karlin as recently as June to perform boots-on-the-prairie field research in Galveston and other sites.
"The opportunity to go out every month or so to observe data on coyotes allows me to recognize how the seasons affect our findings," said De La Parra, who hails from Ciudad Juárez, Mexico. "These outings enhance my educational journey because I get to learn more than just what's in the book and think like a real problem-solver.
"Being part of this hands-on experience really fosters the idea of a liberal arts education here at St. Mary's."
Karlin — who estimated she's personally collected 50 samples of coyote scat, typically along dirt trails — said once the samples are sealed, she ships them to Michigan Technological University, where they undergo time-consuming analysis.
During Fall 2021, Karlin will be on sabbatical to learn sample analyzation techniques, which she will apply to her own research and to the knowledge base of her students.
"Many of our students, coming in, haven't ventured too far out of Bexar County, so their willingness to be stuck with me on weekends, in 100-plus-degree weather, through ticks and bugs, speaks volumes about their dedication," she said.
And yes — the humor of working with animal poop is never lost on Karlin.
"I've never met a person who's not reacted to it," she said. "I talk about it like I'm a 9-year-old."
Check out the video below to watch Karlin and De La Parra speak on their field research.