by Alex Z. Salinas (B.A. '11, M.A. '19)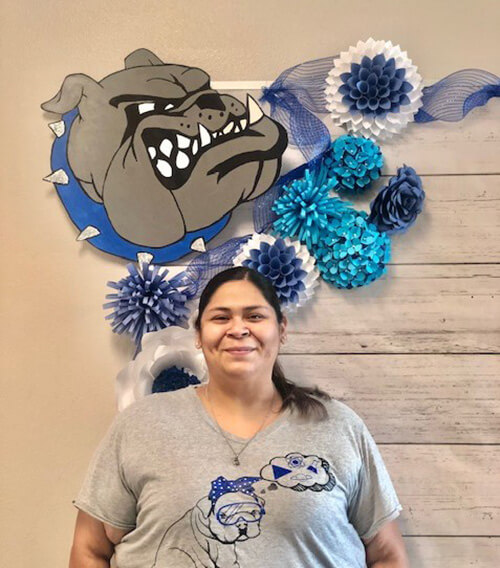 Christina Lopez (B.A. '18) was 28 years old when she enrolled at St. Mary's University to study Environmental Science, hoping to teach it someday to young students.
In a few years, Lopez — now an eighth-grade science teacher at Somerset Junior High School in Von Ormy — would establish herself as a top educator in the state.
The San Antonio native, born and raised on the South Side by a Mexican immigrant father and a teenage mom, graduated from Southwest High School and attended a university, but left two years later after not being fully engaged.
"I worked in a preschool for seven years and my parents and little sister questioned my future and wanted me to do more," Lopez said.
Lopez's sister, Samantha (B.A. '10, M.P.A. '12), encouraged her older sibling to apply to her alma mater, St. Mary's, despite Lopez initially feeling "afraid I was not capable."
That changed the moment Lopez arrived at St. Mary's, where professors warmly welcomed her and strengthened her knowledge in earth science — Lopez's passion in high school, where she was a member of the environmental science club.
Evelynn Mitchell, Ph.D., Professor of Environmental Science, recalled a high school recruiting trip during which Lopez tagged along and impressed prospective students.
"She easily connected with the students and helped them see how understanding our environment was important to them personally," Mitchell said. "Christina also shared with me, while she was a student, that she had started taking her nieces and nephews on nature hikes and teaching them about our environment.
"Being a teacher is part of who she is."
In 2018, Lopez, age 32, was the first at St. Mary's to graduate with a Bachelor of Arts in Environmental Science with a Teaching Certificate.
That year she began teaching science at Somerset Junior High School, quickly setting herself apart as an exemplary educator.
Lopez recently received a Teacher Incentive Allotment (TIA) grant, created by the Texas Legislature to "provide a realistic pathway for top teachers to earn six-figure salaries and to help attract and retain highly effective teachers at traditionally hard-to-staff schools," according to the TIA website.
For the next five years, Lopez will earn an annual bonus of $11,000, which she and her husband plan to use to help build a house "seven minutes away from Somerset."
"Our student population is on the lower socioeconomic end and are at higher risk of dropping out," she said.
Because of this, Lopez empathizes with her pupils, having felt as a young person "already at a disadvantage — people looking at me as a brown woman who wouldn't amount to much."
While she once heard students at Somerset refer to the school in passing as "Dumberset," Lopez now takes pride in helping noticeably increase the school's academic rankings.
Her secret: meaningful connections.
"I tell my kids, 'You take pride where you're at, and you make it better,'" she said.
The job isn't without its stress. Some days, Lopez discreetly asks individuals, "Did you eat supper last night?"
In doing so and making efforts to attend her students' sports games, Lopez believes her teaching atmosphere is ripe for success, especially when she addresses her favorite subjects in class.
"I love talking about Plate Tectonics Theory, that Pangea existed, the magnitude of human impact on the environment," she said.
Lopez credits her St. Mary's education for her teaching achievements, finding it emotional to put it into words.
"The professors at St. Mary's never made me doubt my background, never made me feel that I didn't possess potential to strive for greatness," she said.
"It's an honor to be part of this community."