Degree
Bachelor of Arts

https://www.stmarytx.edu/academics/programs/criminal-justice/

https://www.stmarytx.edu/wp-content/uploads/2020/07/crime-scene-tape.jpg

Minor

https://www.stmarytx.edu/academics/programs/criminal-justice/

https://www.stmarytx.edu/wp-content/uploads/2020/07/crime-scene-tape.jpg
In response to the COVID-19 pandemic, the ACT or SAT test is optional for prospective students applying for Fall 2020 to join the St. Mary's University freshmen class of 2024.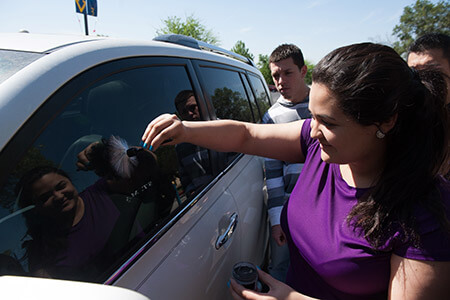 The Criminal Justice program at St. Mary's University focuses on the integration of liberal studies with the professional preparation of the student.
Criminal justice professionals and criminologists have assumed a central role in researching, formulating, implementing and evaluating public policy designed to control crime.
Crime transcends all geographical, social and economic boundaries, affecting all countries and demographic strata.
Controlling crime requires knowledge of individual and social factors that lead to criminal behavior, and strategies and practices to control crime.
Criminal justice is the study of the administration, organization, goals, processes, practices, roles, philosophies and histories of organizations created to prevent and control crime and delinquency.
The Criminal Justice program aims to develop students' critical thinking, problem-solving, communication, and technology skills to help them excel in the criminal justice field.

Students have numerous core major courses, as well as room for electives.

Course highlights include:

Criminal Justice Administration
Substantive Criminal Law
Ethics in Criminal Justice
Legal Topics in Criminal Justice

A degree in Criminal Justice can lead to many potential jobs. Our graduates have gone on to a variety of careers, including:

Police officer
Corrections officer
Forensic science technician
Loss prevention specialist
Criminal profiler
Jury consultant
Expert witness
Private investigator
Insurance fraud investigator
Security specialist

Internships allow our students to gain hands-on experience in the field they are pursuing. Many of our students have earned internships at places such as:

Office of the Attorney General of Texas
San Antonio Police Department
Texas Department of Human Services
Bureau of Alcohol, Tobacco, Firearms and Explosives

National Park Service
Federal Bureau of Investigation
Fire Marshall
Emergency Management