About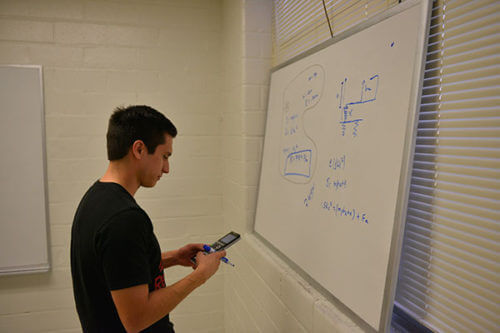 The Physics program at St. Mary's University offers a Bachelor of Science degree in Applied Physics with options in Engineering and Computer Science. This degree plan that provides an instructional base in physics, engineering, mathematics and computer applications. Graduates are prepared to enter today's technology based marketplace or pursue advanced degrees in related fields.
Along with technical courses, students in the program benefit from liberal arts curriculum which include courses in English, social science, philosophy, theology, speech, foreign languages and the fine arts.
Degree Options
Bachelor of Science in Applied Physics with Computer Science Option — Degree Plan
Bachelor of Science in Applied Physics with Engineering Option — Degree Plan
Career Opportunities
Students pursuing an Applied Physics degree will be prepared for pursuing advanced degrees in the applied physics areas such as condense matter physics, plasma physics, optical physics, high energy physics and biophysics, as well as engineering and computer-related areas.
Applied physics is also a great vehicle for entry into a wide range of positions in both the public and private sectors and is perhaps the best preparation for careers in general technology areas, and is ideally suited for up-and-coming areas, such as energy and nanotechnology.
An Applied Physics degree is a route to many career possibilities, such as those listed below.
Career Options
Satellite Systems Engineer
Material Scientist
Laser Fusion Scientist
Solar Energy Physicist
Science Journalist
Data Analytics
Nanotechnology Research and Development
Learn more about the St. Mary's Applied Physics Program
Loading…