About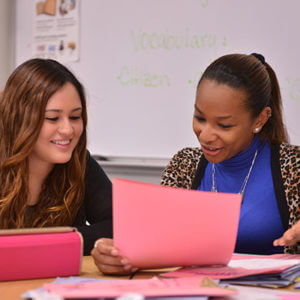 The Education Department at St. Mary's University is committed to preparing teachers for the important role they play in our society's future. Our elementary, secondary, and all-level teacher certification programs integrate rigorous academic training and supervised field experience with a well-rounded education, thus providing our students with tools they need to be effective educators.
The enrichment and vitality of our society in the years to come will depend on future generations, and one of the most important factors that will ensure their success is their quality of education. St. Mary's University understands this and is fully committed to equipping young teachers with the training and resources they need to make a difference. The faculty of the Teacher Education program work diligently to prepare young, strong-minded classroom leaders of the highest caliber. Their knowledge and expertise makes this program a model of teacher preparedness.
Programs in the Department of Education
Teacher Certification Options
Educator Preparation Program Handbook
Digital Learning Opportunities and Requirements for Teachers
Admissions Requirements to the Educator Preparation Program
Clinical (Student) Teaching
Student teaching for undergraduates is conducted during the last semester. The St. Mary's Education Department works with the central offices, building principals, and classroom teachers in public and private schools in Bexar County to provide a comprehensive 13-week student-teaching experience. Working with the central office, the University Certification Officer requests the highest qualified certified professionals to work as supervising teachers.
The student teacher assumes full responsibility for the classroom early in the student-teaching experience. The supervising teacher mentors the student teacher throughout the program but allows him/her to lead the planning delivery, and assessment of instruction, according to the process established during the orientation. At the conclusion of the experience, the student teacher evaluates the placement and the supervising teacher's role as mentor.
Department Mission
St. Mary's University's Education Department incorporates state-approved standards into its curricula and provides a quality preparation program whereby aspiring teachers, specialists, and administrators can attain State of Texas certification. The department functions as a community of faith, and faculty and students are held to high standards of scholarship, service and professionalism.