Education
The Education Department at St. Mary's University is committed to preparing teachers for the important role they play in our society's future. Our elementary, secondary, and all-level teacher certification programs integrate rigorous academic training and supervised field experience with a well-rounded education, thus providing our students with tools they need to be effective educators.
The enrichment and vitality of our society in the years to come will depend on future generations, and one of the most important factors that will ensure their success is their quality of education.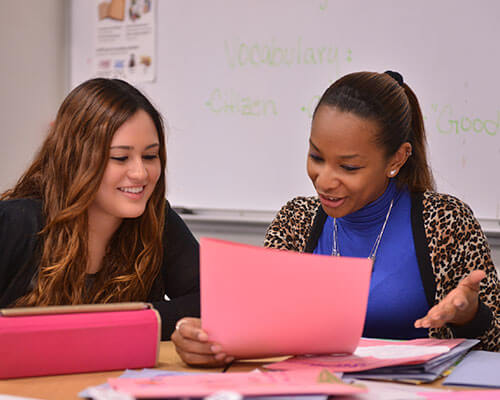 St. Mary's understands this and equips young teachers with the training and resources they need to make a difference. The faculty of the Education program work diligently to prepare young, strong-minded classroom leaders of the highest caliber. Their knowledge and expertise makes this program a model of teacher preparedness.
Texas Teacher Certification Options
St. Mary's is a state-approved Educator Preparation Program (EPP). You can choose from the following certification options:
| Major | Certificate |
| --- | --- |
| Art Education | Art (EC-12) |
| Biology | Life Science (7-12) or Science (4-8) |
| Chemistry | Chemistry (7-12) or Physical Science (6-12) |
| Communication Studies | Speech (7-12) |
| Elementary Education | Core Subjects (EC-6) |
| English Language Arts and Reading | English Language Arts and Reading (4-8 or 7-12) |
| Environmental Science | Science (4-8) |
| Exercise and Sport Science | Physical Education (EC-12) |
| History | History (7-12) |
| Mathematics | Mathematics (4-8 or 7-12) |
| Music – Instrumental or Vocal | Music (EC-12) |
| Political Science | Social Studies (4-8 or 7-12) |
| Spanish | Spanish (EC-12) |
The St. Mary's University Educator Preparation Program is committed to maintaining a high-quality, field-based program which adheres to specific laws and rules, generally related to state and federal requirements, set forth by the Texas Education Agency.

Educator Preparation Program (EPP) Complaint Policy Guidelines

Procedure guidelines allows an applicant, candidate, employee or former employee of the Teacher Education Program, a cooperating teacher, mentor, or an administrator in a school district, charter school or private school to submit a complaint about the Teacher Education Program for investigation and resolution in a timely and effective manner.

EPP Performance and Program Accountability

In accordance with Texas Education Code (TEC) § 21.0452 (Consumer Information about Educator Preparation Program), below are the certification exam pass rates for St. Mary's University teacher candidates in the past five years:

| | |
| --- | --- |
| 2020-2021 | 92% |
| 2019 – 2020 | 100% |
| 2018 – 2019 | 95% |
| 2017 – 2018 | 97% |
| 2016 – 2017 | 98% |

Supply and Demand of Texas Teachers

Per TAC §227.1 (c)(3)(A) the Texas Education Agency requires Educator Preparation Programs to notify their candidates that teaching positions are more difficult to secure in districts along the I-35 corridor in Texas due to the number of teacher preparation programs providing candidates within those educational markets. OLLU lies within the I-35 corridor but has experienced a consistently high rate of employment for certified candidates.

Criminal History Acknowledgement

Pursuant to the TEC, §22.0835, candidates must undergo a criminal history background check prior to clinical teaching. Pursuant to the Texas Education Code (TEC), §22.083, candidates must undergo a criminal history background check prior to employment as an educator. If you were convicted of an offense that is not considered appropriate for an educator, you could be ineligible to earn certification in Texas.

The Texas Education Agency provides candidates with an opportunity to conduct a preliminary Criminal History Evaluation. This evaluation is a non-mandatory, non-binding evaluation of an individual's self-reported criminal history. In addition, the agency obtains your name-based Texas criminal history information. The service is provided to the requestor for a non-refundable fee. The requestor will receive an evaluation letter by email from agency staff advising of potential ineligibility for educator certification. Learn more about the Preliminary Criminal History Evaluation.

Credit for Military Experience

In accordance with 19 TAC §228.35(a)(5)(A), military service members or military veterans may be given credit for certain verified military service, training, or education toward the training, education, work experience or related requirements (other than certification examinations) for educator certification requirements, provided that the military service, train, or education is directly related to the certificate being sought.

Contact the Education Department for additional information.

Educator Preparation Program Policies
Procedural Requirements for Teacher Education Students Seeking Teacher Certification
Meet with Education Faculty Mentor/Advisor to go over the program corresponding to the teacher certification. Create a student folder with the Education Department.
Following the degree plan associated with your teacher certification area, start taking courses (start with the university core courses).
Take and meet the departmental standards of the Texas Higher Education Assessment (THEA) before taking Education courses (see Teacher Certification section on GPS). Any teacher certification courses taken prior to meeting this requirement will be considered as electives.
Upon completion of 60 hours of coursework, meeting the THEA requirement, and maintaining a GPA of 2.6, apply to be in the Educator Preparation Program (EPP).
Do your clinical teaching (the last semester of your senior year).
Take and pass the teacher certification exams:

Elementary Education majors – Pedagogy and Professional Responsibilities (PPR) EC-12, Core Subjects EC-12, and the Science of Teaching Reading (STR)
Other majors – Pedagogy and Professional Responsibilities (PPR) EC-12 and content area exam
Clinical (Student) Teaching
Clinical teaching, formerly known as "student-teaching," is the capstone experience of the Educator Preparation Program. It is a semester-long opportunity to practice teaching skills under the supervision of a supervising (cooperating) teacher and a university supervisor.
Teacher candidates are placed in a classroom for a minimum of 14 weeks, five days a week, where they gradually assume the duties and responsibilities of a classroom teacher. The clinical-teaching semester is a unique opportunity to develop and strengthen teaching skills and dispositions and become familiar with the professional responsibilities of the teacher.
Department Mission
St. Mary's University's Education Department incorporates state-approved standards into its curricula and provides a quality preparation program whereby aspiring teachers, specialists, and administrators can attain State of Texas certification. The department functions as a community of faith, and faculty and students are held to high standards of scholarship, service and professionalism.
Academic Programs in the Department of Education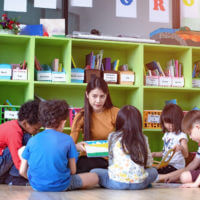 Elementary Education