Law school can feel like one hurdle after another.
First, prospective students study and take the LSAT to get accepted into law school. Next comes the challenge of succeeding in law school by juggling studying, exams and everyday life. Finally, there's the ever-dreaded bar exam — a six-hour, two-day ordeal that requires months of full-time studying to prepare. This last leg of the journey can be isolating for many.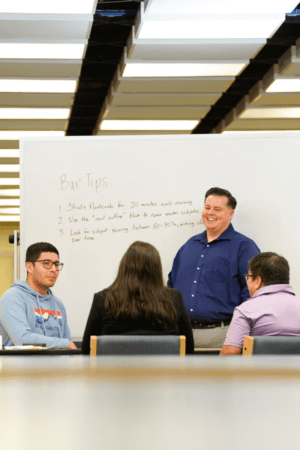 Afton Cavanaugh (J.D. '13), Assistant Dean for Law Success, said the St. Mary's University School of Law saw a need to extend support to students beyond graduation. In true Marianist charism form, this extra helping hand comes in the form of the Raise the Bar program.
"I see Raise the Bar as part of the family spirit, and that doesn't end just because somebody walked across the stage," Cavanaugh said. "It's about taking this next very challenging leap with them and making sure that they feel supported as they go through it."
The Raise the Bar program, a supplement to a commercial bar prep program, is offered to all School of Law graduates. Once enrolled, the only requirement is that students maintain standards, such as meeting with coaches a certain number of times and staying within a certain percentage of completion of the commercial course.
Along with the commercial course training, graduates can access three full-time faculty members as coaches, all of whom are bar specialists who receive training throughout the year and teach bar prep for credit courses.
The School of Law has also trained bar fellows — usually recent graduates who participated in Raise the Bar, some of whom have done bar coaching before or provided support. They work one-on-one with smaller groups than the full-time coaches. All Raise the Bar coaches are personally invested in students' success on the bar exam and work individually with students to identify and overcome their weaknesses. They help create individual study schedules, manage stress and anxiety, explain test day strategies and improve overall performance on the bar's multiple choice and essay sections.
"When I studied for the bar, my coach offered immense support and encouragement that undoubtedly contributed to my success."

Zachary Olvera (J.D. '21)
These measures, beyond the commercial bar prep, are what Zachary Olvera (J.D. '21) said helped him pass the bar on his first attempt and why he was thrilled to help pay it forward.
"When I studied for the bar, my coach offered immense support and encouragement that undoubtedly contributed to my success," Olvera said.
Along with training sessions, weekly check-ins, and daily access to coaches, graduates who participate in Raise the Bar also enjoy wellness support, like massage chairs, snacks and various meals throughout their exam preparations. Much of the program has been supported through donations, such as a $10,000 grant from the Harbourview Foundation.
Cavanaugh said consistent participation is the key to success.
"Generally, for people who stay engaged with Raise the Bar all throughout the cycle, they usually pass at a 5% to 10% higher rate," he said.