From Rattler to Globetrotter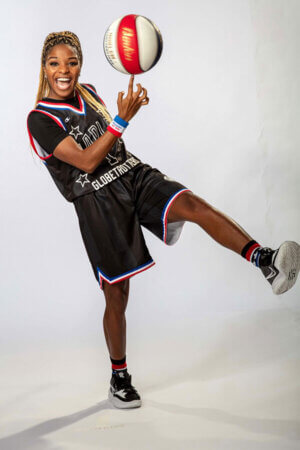 by Brian Magloyoan (B.A. '15)
With a larger-than-life personality matching her ability on the basketball court, Arysia Porter (B.A. '19) has taken her talents from studying Criminology and playing Rattler Women's Basketball around the world with the iconic Harlem Globetrotters.
In December 2022, under the watchful eye of Globetrotters' Special Advisor to the President and Basketball Hall of Famer Lynette Woodard, Porter and four other women joined the Globetrotters' roster.
"A seed was planted when I became the first female to join the Harlem Globetrotters," Woodard said. "Now, I can see the fruit of my joy with the largest group of women athletes to be celebrated in the team's history."
For Porter, the journey to becoming a Globetrotter began in Spring 2022. After playing for Leñadoras de Durango in Mexico, she received a call about a new opportunity.
"They flew me out to Atlanta. It was a one-day tryout," Porter said. " I showed my skills, mainly just finding my part, finding my place. And they liked me."
Finding out about her selection to the roster almost 40 years since Woodard was the first woman to be named a Globetrotter, Porter said the significance of her selection goes beyond basketball.
"That means so much," said Porter, adding that women are just as capable as men. "The main goal is to make sure we keep that message going and inspire other girls."
Porter left her mark as a member of the St. Mary's Women's Basketball program, holding the single-game record for most points with 38. She is also sixth all-time in scoring and second all-time in games and minutes played.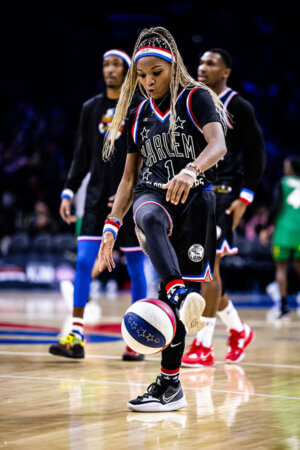 "My experience as a student at St. Mary's was everything I could ask for," Porter said. "I had so much help through situations I may have found difficult. I also had so many supportive teachers, staff members, classmates and friends who surrounded me through my whole process of being a student-athlete."
Porter said earning her degree in Criminology was made more smooth because she found joy in studying the subject and said graduating with her degree was her defining moment at St. Mary's.
"Looking back at everything I went through, graduating showed me my strength and true self," Porter said. "I could have let all the obstacles through my four years get to me, but it didn't. Therefore, graduating gives me that certificate of 'You made it through' and tells me that big things are to come in the future!"
In addition to joining the Globetrotters on their 2023 World Tour, the San Antonio native has stayed close to home by working for the San Antonio Spurs and as a substitute teacher at Roosevelt High School, her high school alma mater.
Known for her charisma and crafty style of play on the court, Porter received the nickname "Ace" upon joining the Globetrotters.
"Ace is the highest rank in a card deck," Porter said. "If you play an ace, you already know you're winning."