When Carter Casteel (J.D. '85), then a 39-year-old public school teacher, told her father she intended to pursue her dream of becoming a lawyer, he asked what kind of attorney she wanted to be.
"A good one," she quipped.
Now the founder of a New Braunfels law firm, Casteel works alongside her daughter and granddaughter — all graduates of the St. Mary's University School of Law — while awaiting a fourth family member to complete her studies.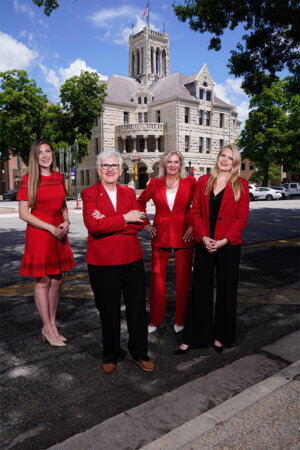 With three generations having walked the halls of the School of Law, Casteel said she wouldn't have entrusted their law education to just anywhere.
"The school has definitely taken care of us," Casteel said.
A native of Monahans, Casteel moved to Austin in 1961, obtaining her bachelor's degree at the University of Texas at Austin and then her master's degree at what would later be called Texas State University in San Marcos. While at UT, She met and married Thomas Casteel and had two children, Cheryl and Barron.
In 1972, the family moved to New Braunfels, and Carter Casteel was encouraged to pursue her dream of law school while she was teaching at Canyon High School. Starting her legal studies in 1982, Carter Casteel not only became an attorney, but also was elected the first female county judge of Comal County in 1990. Later, she served two terms in the Texas House of Representatives from 2003 to 2007.
"St. Mary's gave me the opportunity to maintain my family in New Braunfels and pursue my dream," she said.
While not initially lured by law school, Cheryl Casteel (J.D. '04) first became a certified public accountant and then the chief financial officer for New Braunfels Utilities.
Working with the Guadalupe-Blanco River Authority and the Lower Colorado River Authority, she became interested in learning how laws shape her community and earned her law degree.
"I loved everything about my time at St. Mary's," Cheryl Casteel said. "I made amazing, lifelong friends and found this whole new family."
Morrigan Land (J.D. '20), Cheryl Casteel's daughter, fell for the law at age 8, when she drew a picture of herself as a judge.
"I loved everything about my time at St. Mary's. I made amazing, lifelong friends and found this whole new family"

Cheryl Casteel (J.D. '04)
In high school, Land brought her interest in criminal law to an internship with the Comal County District Attorney's Office before attending Texas A&M University and working in Washington, D.C., for then-U.S. Representative Lamar Smith.
Once she started attending classes at St. Mary's Law, Land was named co-captain of the National Trial Team and served as vice president of the Student Bar Association.
"I loved law school," she said. "I looked forward to going to class. I looked forward to competitions. I looked forward to training, and the community was just great."
When the COVID-19 pandemic began, Morrigan Land and her sister, Catherine Land quarantined and recovered together after contracting the virus. Watching Morrigan Land study for the bar exam, Catherine Land's interest in attending law school grew.
After graduating with a bachelor's degree in Communications from Baylor University and working as a producer for National Geographic Wild's Walking with Giraffes, Catherine Land, now a third-year J.D. student, said she never felt pressured to go to law school.
"I feel lucky that my grandmother, my mom and my sister have always made it clear that I'm going to write my own story," she said.
South Texas Distinguished Professor of Law Vincent Johnson, J.D., LL.M., LL.D., was in his first year of teaching at St. Mary's when he had Carter Casteel in class. He has since taught every family member at some point in their legal studies. "Nothing is a stronger vote of confidence in a university than for a family, time after time, to entrust its very able members to the care of that university," Johnson said.