Zack Valdez takes on new chief of staff role at the Office of Manufacturing and Energy Supply Chains
by Jennifer R. Lloyd (M.B.A. '16)
Zack Valdez, Ph.D. (B.S. '10), finds motivational fuel in explaining complex science and increasing public trust in scientific findings by everyone from community members who need to understand their environment to Congressional decision-makers.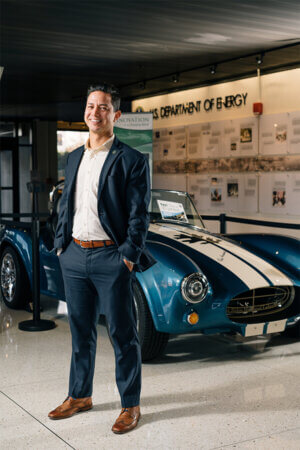 In July 2022, Valdez became the chief of staff for the U.S. Department of Energy's newly created Office of Manufacturing and Energy Supply Chains (MESC). For that office, Valdez has been helping to hire dozens of employees and determine the best projects to receive more than $15 billion in newly allocated funding and $10 billion in tax credits.
These projects will help the U.S. modernize its energy infrastructure and support a clean and equitable energy transition. For example, MESC has provided $2.8 billion in funding to expand domestic battery manufacturing for electric vehicles and the grid. The office will also fund a unique facility to extract rare earth elements and critical minerals for advanced energy technologies from unconventional sources, such as mining waste.
Valdez, originally from the Dallas area, learned over time that — in energy, science and beyond — being careful of one's convictions and being open to listening can generate the best outcomes.
"There's no way that I could be here without the support of many people," Valdez said. "As you're moving through life, always look back to see how you can help others get to where you are. There are Marianist ideals in focusing on the larger community, on people and how you can help them. Be the person you needed to be where you are today."
From soccer fields to sustainable fuels
Valdez grew up in a multi-ethnic family with Polish and Hispanic parents and a love of soccer. But after his parents divorced, his mother had to work two jobs and could not afford to register him for high-end soccer clubs. Though he excelled at school, his oldest brother died suddenly, and his mother was diagnosed with cancer before his senior year of high school. College was the last thing on his mind, Valdez said.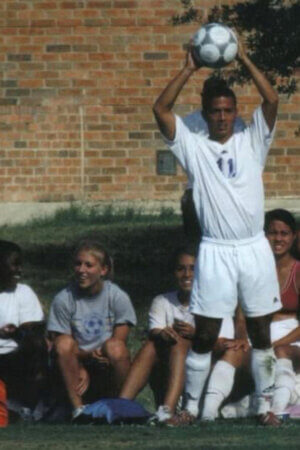 When it came time to pick a college, he learned about St. Mary's University because a Rattler Soccer coach was recruiting one of his friends. When Valdez visited the campus, he found a welcoming, friendly environment, unlike others he visited.
"Everybody really wanted to get to know you," said Valdez, who soon joined the Rattler Soccer team. "I met some upperclassmen who immediately took me under their wing."
He found he was one of the few scientists on the Soccer team when he began studying Engineering and later added a Physics major and a Mathematics minor.
Being accepted into the McNair Scholars Program also opened research opportunities and enabled him to think more deeply about what he wanted to do after graduation. The McNair Scholars Program helps first-generation, minority and financially challenged undergraduate students to prepare for doctoral studies through research and other scholarly activities.
Through the McNair Scholars Program, Valdez interned at the Stanford Linear Accelerator Center, which showed him what physics applications could look like at a higher level and demonstrated the importance of interdisciplinary thinking.
"In class, Valdez was always ready to make an intelligent contribution and let his voice be heard," Moras said. "Today, I am delighted to see that his voice is being heard at the highest levels. Zack has become an indefatigable force working for the common good. He has become an excellent example of dedicated servant leadership and an inspiration not only for me, but for all St. Mary's students."
"There are Marianist ideals in focusing on the larger community, on people and how you can help them. Be the person you needed to be where you are today."

Zack Valdez, Ph.D. (B.S. '10)
After graduation, Valdez worked in engineering at Southwest Research Institute for a year before studying clean energy and sustainability for his Ph.D. at Baylor University. He studied switchgrass, a biofuel, for its ability to store carbon dioxide in its roots, where it would decompose and increase the soil's health.
While studying in graduate school and trying to explain his research to his loved ones, including his grandmother in her 90s, he realized that he excelled at explaining complex science to various stakeholders. That realization propelled his future career moves.
Where science and strategy meet
To follow his desire to increase the public's trust in science and make discoveries more accessible, Valdez began the prestigious American Association for the Advancement of Science and Technology Policy Fellowship, during which he served on the Energy and Natural Resources Committee of the U.S. Senate.
After this Congressional experience, he worked at several nonprofits, such as Thriving Earth Exchange, which helped community members identify issues within their environments — from heat islands to flooding to water quality problems. This sharing of data allowed communities to develop policy solutions.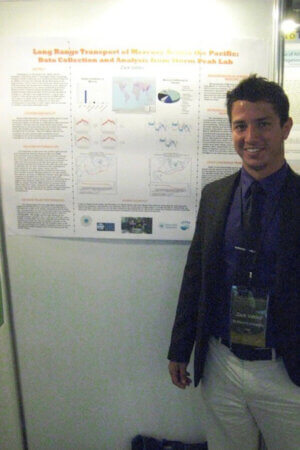 "He's a good ambassador for understanding and relating the concerns of how problems in the environment can affect individual people," said Mitchell, who recently had Valdez speak in her Environmental Science seminar. "He's a great example of St. Mary's students reaching forward to make changes to the world and embracing the Marianist charism of adaptation and change."
Among other roles on his way to the Department of Energy, Valdez worked with fellow St. Mary's alum Raquel Tamez (J.D. '98), while she was CEO of the Society of Hispanic Professional Engineers. He also crafted science and technology policy at the National Institute of Standards and Technology's Office of Advanced Manufacturing.
He then gained the nomination for the new chief of staff role at the Department of Energy's Office of Manufacturing and Energy Supply Chains. After months of interviews, he was appointed to the position and has begun scaling up the new office.
"Change has to happen at a small level and prove it can grow," he said.