by Melanie Skaggs (M.A. '02)
"I didn't think I had a shot. People questioned hiring me as the CEO of an organization of engineers. Why this Latina and why a lawyer? I like to think I've proven them all wrong."
In 2017, after a 20-year law career, Raquel Tamez (J.D. '98) set on a new course as CEO of the Society of Hispanic Professional Engineers (SHPE). She felt drawn to its mission, empowering the Hispanic community through careers in STEM.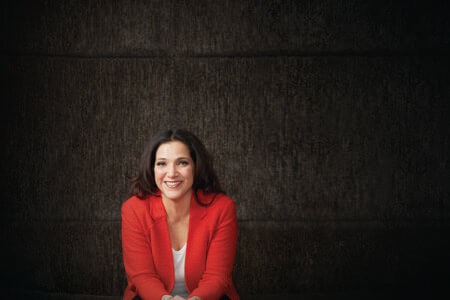 "Law school was the foundation for my executive presence. What I learned there set me up for success in my legal career and success as a CEO," Tamez said. "It's about demonstrating leadership and articulating a vision."
As a young girl, Tamez witnessed the injustice toward relatives and neighbors who talked about not getting paid for a job or being fired. She remembers the discrimination they faced because of their race and lack of opportunities.
Growing up poor in Houston's Second Ward, the youngest of six born to Mexican immigrants, Tamez "hated seeing other people feel helpless," and viewed education as a pathway to independence and opportunities.
Tamez developed grit early. She rode a bus across town to River Oaks, one of Houston's wealthiest areas, to attend better schools.
When she finished high school, Tamez received full-ride scholarship offers from multiple schools.She applied to law school after graduating from the University of Texas in Austin and discovered her professional calling. She selected the St. Mary's University School of Law to benefit from a small-school experience.
"I saw a legal profession as a way to influence change and have an impact. Law school was the first step along that path. For the first time in my life, I felt viscerally motivated by a sense of justice. I knew deep down that I would always be on a mission or a part of one," she said. 
During law school, Tamez participated in mock trial and moot court, was a teacher's assistant, clerked for several firms and represented individuals as part of the Immigration and Human Rights Clinic. She now serves on the School of Law Dean's Board of Visitors.
Tamez has used her law expertise throughout her career to inform her role as a Latina leader and advocate. After earning her J.D., Tamez joined the U.S. Department of Labor, prosecuting cases involving labor violations. Then at Mary Kay Inc., she supported an organization that helps empower women around the world. Later, as chief legal officer and general counsel at SourceAmerica, she advocated for and helped create opportunities for people with significant disabilities. Throughout, Tamez helped open paths for the overlooked and underserved.
When the opportunity to join SHPE as CEO presented itself, she was apprehensive but knew she would be helping advance the Hispanic community.
"It was a calculated risk going to work for SHPE, but I wasn't going it alone. Since I've been there, we have accomplished great things together as a SHPE familia, most importantly, creating new and more opportunities for Hispanics and their families throughout the country," Tamez said.
In September 2020, the Mexican Government honored Tamez with the prestigious Ohtli Award, only given to individuals who have aided, empowered or positively affected Mexican nationals' lives in the United States or other countries. The name "Ohtli" is a Nahuatl word that means "path," implying the idea of presenting a way for others.
"Dare to create new paths, not just for yourself but for others. It's the paths that I create and leave for others that mean the most to me. My story is an American one, but my path, the one that led me here, will always be my ohtli."