Judicial clerkships have long offered invaluable training experience for new lawyers and law school graduates, and St. Mary's University School of Law faculty and alumni are working together to create awareness about these opportunities for J.D. students.
South Texas Distinguished Professor of Law Vincent Johnson, J.D., LL.M., LL.D, said clerkships have existed in the American legal system for about a century and explained that a judge hires a clerk to assist with deciding cases.
"Clerkships are now an indispensable part of the American system," Johnson said.
Most federal judges typically have two or three clerks. There are career clerks who spend many years with the same judge. But more often, a clerk is a one- or two-year position held by a high-achieving law graduate.
Johnson said it's an important contribution to the administration of justice that clerks assist the judge in reading the papers, drafting opinions and sorting through the issues in the case.
"Because they're top law school graduates, they tend to do a really good job, and that improves the overall quality of justice," Johnson said.
"Clerkships are now an indispensable part of the American system."

Vincent Johnson, J.D., LL.M., LL.D.
Assistant Dean of Career Services Robin Thorner, J.D., oversees the students in the clerkship program and said that the law school is excited about how the program is progressing.
"Garcia Marmolejo is helping students who historically would not get a second look," Thorner said.
Through the spearheading efforts of Garcia Marmolejo, a Visiting Jurist in Residence, and other law faculty, the School of Law has momentum growing for the judicial clerkship. Several J.D. students have secured one or two judicial clerkship opportunities — some including prestigious federal clerkships.
Garcia Marmolejo and her former and current law clerks — Thanh D. Nguyen, J.D., Chloe Kempf, J.D., and Emmanuel Perea Jimenez, J.D. — serve as mentors to the law students in the program, providing writing sample "makeovers," mock interviews and networking opportunities.
Nguyen, a first-generation law graduate, said mentorship at this level would have been incredibly beneficial when he was in law school elsewhere.
"The legal profession has certain norms that aren't intuitive if you didn't grow up in it," Nguyen said. "We remember what it was like. We're here to help demystify."
Third-year J.D. students discuss upcoming clerkships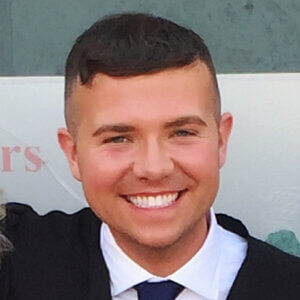 Hometown: Baton Rouge, Louisiana
The Hon. Christopher dos Santos, J.D., U.S. Magistrate Judge, U.S. District Court for the Southern District of Texas, starts August 2023
The Hon. Jason Pulliam, J.D., U.S. District Judge, U.S. District Court for the Western District of Texas, starts September 2024
"I wasn't really sure that I was clerkship material until I talked to Judge Garcia Marmolejo and her team. I don't have any attorneys in my family, and I really lacked confidence. The mock interviews helped me to relax and be more authentic. As a result, I have been able to secure full employment for the next few years after law school."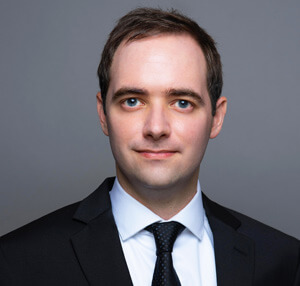 Federal Clerkship: The Hon. Andrew M. Edison, J.D., U.S. Magistrate Judge for the Southern District of Texas — Galveston Division, starts September 2023
"All of the credit goes to Assistant Professor of Law Emilio Longoria. I really enjoyed his class, State and Local Government. He helped connect me directly with Judge Edison, and I'm super thankful to Professor Longoria. I was hopeful that my journalism background would help me in law school, and it has but I'm looking forward to the writing seminar with Judge Garcia Marmolejo's clerks in preparation for my clerkship."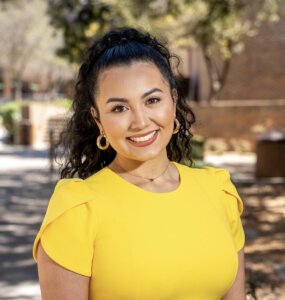 Clerkship: The Hon. Cristina D. Silva, J.D., U.S. District Judge, U.S. District Court for the District of Nevada, starts September 2023
"The clerkship application and interview process are intimidating. Although I committed to applying, I was not convinced I was clerkship material.  Meeting Judge Garcia Marmolejo and her law clerks changed that for me. After receiving application support and interview guidance from Judge Garcia Marmolejo and her team, I walked into my clerkship interview confident and prepared for any question.  I am eternally grateful to Judge Garcia Marmolejo and her law clerks, Chloe Kempf, Thanh Nguyen and Emmanuel Jimenez, for helping me secure a federal judicial clerkship with the Hon. Cristina D. Silva in the U.S. District Court for the District of Nevada. Judge Garcia Marmolejo's clerkship program is only in its infancy and is already changing lives and putting the St. Mary's School of Law on the map."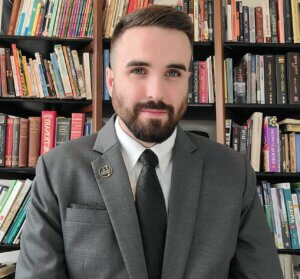 Hometown: Dothan, Alabama
Clerkship: The Hon. Kimberly C. Priest Johnson, J.D., magistrate judge, U.S. District Court for the Eastern District of Texas, starts August 2023
"Judge Garcia Marmolejo was a huge help in giving substantive interview prep. I did a mock interview with her and her clerks. Having a federal judge present really accurately depicted how the interview process would go. Her clerks went above and beyond by helping me with my interview questions and preparing me for pitfalls. They reviewed my application materials and gave me substantive advice on tweaking my résumé and other application materials. Overall, the clerkship program allowed me to walk into an interview as polished as I could be."