The episode showcases Rattlers and gives glimpses into campus life
St. Mary's University is ready for its close-up.
This month, St. Mary's has been featured in an episode of The College Tour, an Amazon Prime series that spotlights colleges and universities around the country. The episode is available online and will debut on streaming services in August 2022.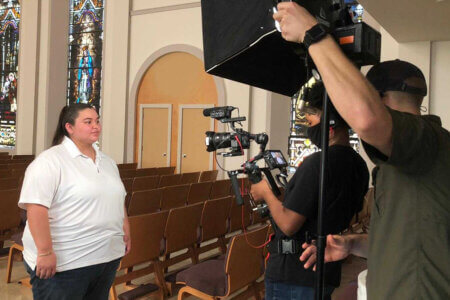 Created and hosted by Alex Boylan, the purpose of the show is to give potential students more insight into different campuses and universities around the country without having to break the bank to travel.
"The average trip for a family to go outside their general vicinity to look at colleges is about $2,500," said Boylan, whose television career soared after winning season two of The Amazing Race. "It's expensive to go look at schools."
When his niece's college search was hindered by the COVID-19 pandemic, Boylan wanted to give her and other students a chance to see different schools through the eyes of the students who attend classes.
"I just felt like this is the perfect television format and that higher education needed its own TV series," Boylan said. "And that's how it was born."
For the St. Mary's episode, 10 students of various majors and backgrounds auditioned and participated in the filming and production process, which took about six months from start to finish.
An inclusive and welcoming community creates sense of home
When Savannah Palmer was still a student at Sandra Day O'Connor High School in Helotes, she knew she wanted to go somewhere nearby to continue her studies.
Wanting to pursue a degree in Music Education, Palmer said she looked at different universities before selecting St. Mary's University. Besides having a top-notch Music program, the openness and welcoming attitude of the faculty, even though she wasn't enrolled, made her choice easy.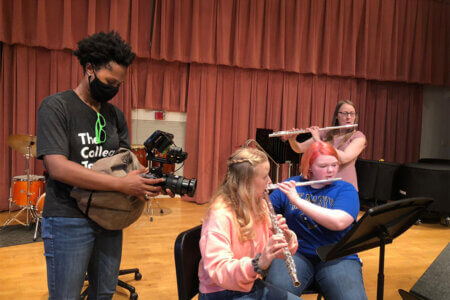 "St. Mary's was the most inclusive campus and made me feel the most welcomed," said Palmer, now a junior majoring in Music Education. "I felt like I was in the right place."
For Palmer, finding a higher education home was easier than most. Living in a metro area allows for more opportunities to explore college campuses. However, not every student and family has the time or financial opportunity to look at all the campuses they may like to attend.
Palmer said she wanted to audition for The College Tour because of how much the University has done for her. She's grateful for the inclusive community and all the friends she has made.
Spending the beginning of her college career online during the onset of the COVID-19 pandemic, Palmer said virtual friendships grew exponentially once music rehearsals returned to campus.
"St. Mary's was the most inclusive campus and made me feel the most welcomed."

Savannah Palmer
"I wanted to be a good representative of the Music Department and show students that St. Mary's is really inclusive and a great place to learn and grow as a student and a leader," Palmer said.
Activities involve students in campus life
For first-year student Victoria Olguin, of Cedar Creek, searching for a university that would allow her to be involved in various activities was one of the factors in deciding where to go to school.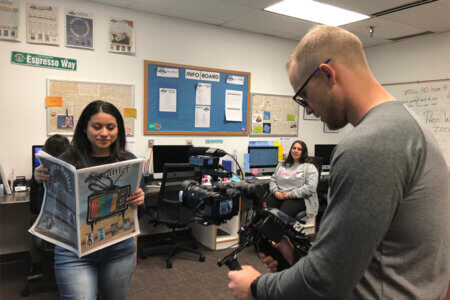 In her first year on campus, Olguin became an editor of The Rattler student newspaper, began performing with the St. Mary's Orchestra and Mariachi group and joined the Honors Program.
Getting to be in numerous groups has introduced Olguin to a broad array of people and interests — an experience other universities may not have offered.
"I was exposed to a lot of new people because I was in these organizations and clubs, and I was able to really get to know the community," said Olguin, who is from Cedar Creek and majoring in Business Management and minoring in biology. "That's something that I really love about St. Mary's. There's always an opportunity to get involved."
Applying for the show, she said she wanted to give viewers an honest perspective of what the University has to offer, while also giving them the opportunity to envision what they can accomplish if they decide to attend.
"I was exposed to a lot of new people because I was in these organizations and clubs, and I was able to really get to know the community."

Victoria Olguin
"I know upperclassmen already have a lot of experience and can share a lot. But, as a freshman, I also have a lot to share," Olguin said. "Not that long ago, I was in their footsteps. I wanted to be able to share my perspective and help future St. Mary's students with their very important decision."
Small class sizes increase access to professors
Tromance Washington (B.S. '22) bet on himself — and coming to St. Mary's helped him achieve his goals.
A native of Wisconsin, Washington said his uncle, who was also helping him research universities, was the one who told him to look at St. Mary's when he was applying to colleges his senior year of high school.
With plans to pursue a degree in Engineering Management, the 11-1 student-to-faculty ratio was one of the main reasons Washington applied.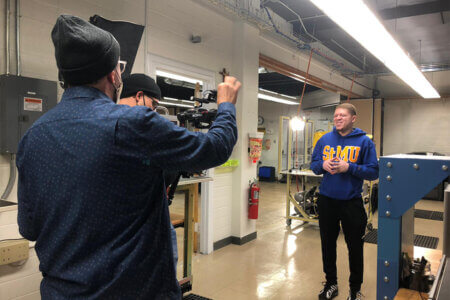 "Small class sizes were going to be important with such a hard major," Washington said. "I took a risk on myself, and I was so grateful when I got accepted."
From the moment he came to orientation, Washington said he felt welcomed into the community and comfortable enough to start getting involved with different organizations his first year on campus.
Washington said the personal connections with instructors due to smaller class sizes was something he didn't think he would have at many other universities.
Throughout his time at St. Mary's, Washington developed lasting relationships with professors and fellow classmates.
"I could not walk around campus with headphones because I would always bump into somebody I knew, and they were genuinely wanting to know how I was," Washington said.
Because of his experiences at St. Mary's, Washington wanted to tell as many people as he could about the University and what it had to offer. When he heard about The College Tour, he said he wanted to audition so he could have the chance to tell his story. He added his experiences and education helped him land his job at Samsung Austin Semiconductor.
"This is where it starts. St. Mary's will help you position yourself to learn those skills."

Tromance Washington
If viewers take one thing away from his message, he hopes that it's about believing in yourself.
"Don't limit yourself by saying 'I can't do that,'" Washington said. "This is where it starts. St. Mary's will help you position yourself to learn those skills."
View The College Tour via YouTube: