Before accepting St. Mary's University's Marianist Heritage Award earlier this year, Fred "Steve" Hemphill (B.A. '05) made a list of every Marianist who has impacted his life — 42 names.
Hemphill, Executive Director of Development at the University, credits the Marianists for leading him to study and eventually work here. His middle school counselor, also an alumnus, encouraged his parents to send him to Central Catholic High School, a private and Marianist high school in San Antonio.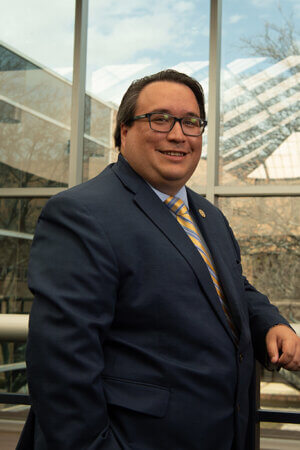 Hemphill, who had previously attended public schools, said he didn't know much about Central Catholic.
"I thought, 'Oh, I'm getting punished. I'm going to an all-boys school.'"
At Central Catholic, he connected with Marianists, who guided his decision to major in History at St. Mary's when he hadn't found his direction.
"St. Mary's was just a very welcoming place for me to explore ideas and think about what I wanted to be," said Hemphill, whose love of books led him to work at the Blume Library as a student.
Brother Michael "Mike" Sullivan, S.M., D.M.A., Professor of Music, first met Hemphill when he was president of the Student Government Association and remembers him as a good leader and networker.
"He's always been a gentleman and he really is easy to talk with," Sullivan said. "He really has embodied the Marianist spirit and charism."
Hemphill has now worked in the Office of University Advancement for six years. He said his History degree allows him to connect the personal histories of individuals with the institutional history of the University.
He reaches out to alumni daily, helping fundraise for scholarships, campus projects and new equipment for classroom learning.
Just as the 42 Marianists have touched his life over the years, he said, "Almost all graduates I've talked to have had an amazing experience here that changed their life in some way. It's how we are multiplying the good in the world."