by Alex Z. Salinas (B.A. '11, M.A. '19)
Like young baseball fans around the world, Jeff Wigdahl dreamed of making the big league — Major League Baseball.
The San Antonio native began playing organized baseball at age 6 and vividly recalled watching with his dad the Los Angeles Dodgers win the 1988 World Series, a moment that inspired him to swing for the professional ranks.
Wigdahl (B.S. '10), whose later career curved into unexpected territory — from minor league baseballer to dedicated researcher for a biomedical company specializing in eye and foot care — chose to play pitcher because he said he "wasn't much of an athlete."
"Mentally, if you're tough, you can outthink the hitters," he said. "Back then, I was fiery. I wanted to make every hitter look bad."
That toughness signaled his future success in academia too — an arena in which he has a master's degree in Electrical Engineering and a Ph.D. in Biomedical Engineering.
In his senior year at Taft High School in San Antonio, Wigdahl received baseball and academic scholarships from St. Mary's University and clicked immediately with the coaches.
Charlie Migl, Head Baseball Coach, said he knew "right away that Jeff was a really smart guy."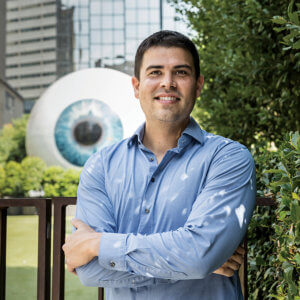 "He was quiet, but when he said something, you knew he'd thought it through," Migl said.
Wigdahl acknowledged he had "no clue" what he wanted to do beyond baseball, though he felt he was decent at math and science. He majored in Electrical Engineering, a program in which he struck lasting connections with St. Mary's professors.
Wigdahl wound up for a miraculous first season with Rattler Baseball, helping the team win the 2001 NCAA Division II National Championship and propelling a number of players into the MLB.
Standing 6 feet tall and pitching lefty, Wigdahl played for Rattler Baseball until 2004 and holds the career record for strikeouts per nine innings at just over 11.
"Jeff had an outstanding career here," Migl said. "He's one of our best leaders and best players to come through."
In 2004, the Houston Astros drafted Wigdahl in the 23rd round and he put his college education on hold.
Wigdahl's first stop in the minor league was with the Tri-City ValleyCats in upstate New York. He also logged time with the Lexington Legends in Kentucky, the team formerly called the Salem Avalanche in Virginia and the Corpus Christi Hooks before retiring in 2007.
Meanwhile, Wigdahl stayed in touch with Electrical Engineering Professor Bahman Rezaie, Ph.D., who'd planted the seed for him to finish what he started at St. Mary's.
"While Jeff was in minor league, he visited me in my office and brought me his baseball card that he was very proud of," Rezaie said. "To this day, his card sits on my wall of honor in my office."
This winning bond with a mentor led to Wigdahl's return to St. Mary's in 2008 to finish his Bachelor of Science in Electrical Engineering.
Wigdahl said professors, such as Rezaie and Djaffer Ibaroudene, Ph.D., Professor of Computer Engineering, "didn't pull any punches," teaching him valuable programming knowledge he incorporates to this day in developing software for medical use.
After graduating from St. Mary's in 2010, Wigdahl, with Rezaie's assistance, landed a paid internship at New Mexico-based VisionQuest Biomedical, which develops image-based technology for patients with eye disease and diabetes.
Wigdahl was quickly promoted to researcher and has remained with VisionQuest Biomedical. The company funded his master's degree from the University of New Mexico and supported his three years at the University of Padua in Italy to earn his doctorate.
Recently, he worked on software for an iPhone app for doctors that alerts them to retinal problems in premature babies.
"We look at retinal images of the inner eye," he said. "Several eye diseases can be detected through digital images, and we, ultimately, teach computers how to detect those diseases through the images."
"From home, I write code for hours and hours," said Wigdahl, who lives in Dallas. "It's not baseball, but I take pride in my work knowing we're helping people keep their vision and their feet."
Wigdahl credited much of his vision for success to St. Mary's.
"I did so much better the second time around," he said. "I hit the engineering books hard and received a top-notch education. It's a credit to the professors, who are all available to you."