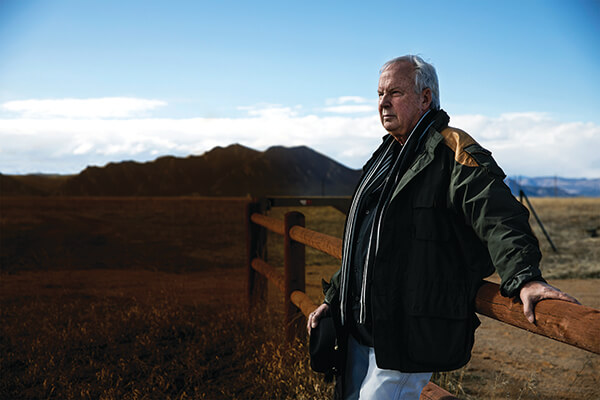 In some parts of rural Colorado, access to high-speed internet could look like a trip to the local Walmart parking lot or the public library, a barrier which can affect access to justice.
For example, Delta County in Western Colorado — about the size of Rhode Island — only has about 20 practicing lawyers. The youngest is 55.
"Young people will not go practice law in Delta County because they've got no broadband support. Everything is the equivalent of dial-up," said John M. Vaught (J.D. '78), the Denver-based past president of the Colorado Bar Association, who spent 42 years in private practice focused on commercial litigation. "Nobody wants to practice law without high-speed internet."
Without broadband support, uploading a brief to the Colorado Supreme Court can require a 40- to 70-mile trip just to find a strong enough signal, Vaught said.
Vaught made expanding broadband connectivity to rural Colorado a priority during his tenure as CBA president.
"If there are no lawyers practicing in Delta County because of these conditions, where do you go to get a lawyer?" he said. "It completely denies access to justice."
Much of the existing fiber optic cables in Colorado run through interstates and along railroad lines, otherwise called the "middle mile." The problem, Vaught said, is that most rural areas are still missing the connection between the middle mile and individual residences and businesses.
That elusive end-user connection is the "last mile." If there aren't enough subscribers to justify broadband infrastructure, the private companies won't build it, he said.
Another obstacle is Colorado's Senate Bill 152, passed in 2005. The law prohibits the use of city and county funds for improving broadband infrastructure. While counties can opt out, it can be a cumbersome and expensive process; the county must call an election and the residents must support the resolution before using taxpayer money for the infrastructure.
By October 2018, 116 Colorado municipalities and counties held elections to override SB 152. But those areas needed millions more to build adequate infrastructure, Vaught said.
So Vaught made his case to the American Bar Association: petition Congress for $42 billion, which could be used to fully fund broadband infrastructure in rural America.
"Much to my surprise, all 600 (ABA) delegates voted yes. And I thought, 'How do you get 600 lawyers to agree on anything?' "
In July 2020, the U.S. House of Representatives heard the ABA, and they answered. The House proposed a bill to dedicate $100 billion to broadband infrastructure throughout America. Now it must be voted on by the Senate.
The issue has become more significant in light of the coronavirus, he added.
"The coronavirus has really underscored how important high-speed internet is," he said. In many Texas towns, he added, "we're trying to teach high school kids, and we don't have the adequate infrastructure to do it."
Before his tenure as CBA president, Vaught was president of the Denver Bar Association, chair of the Denver Bar Association Young Lawyers Division and served on the Colorado Bar Association Board of Governors.
The St. Mary's University Law Alumni Association recognized Vaught as a Distinguished Alumnus in 2018. In June, he also became the Vice Chair of the St. Mary's University Board of Trustees.
As Vaught's mentor, Dean Emeritus Charles E. Cantú remembered him as a diligent student.
"He was always well-prepared, and somehow, I knew he would become very successful," said Cantú, adding that Vaught stands out among graduates, as only a few have led state bar associations.
"If I can do some good to help St. Mary's, I'm glad to. St. Mary's Law made a huge difference in my life," Vaught said. "I did exactly what I was meant to do, and that was being a lawyer. St. Mary's gave me that opportunity."