by Alex Z. Salinas (B.A. '11, M.A. '19)
Most students who go to college leave behind proud parents at home.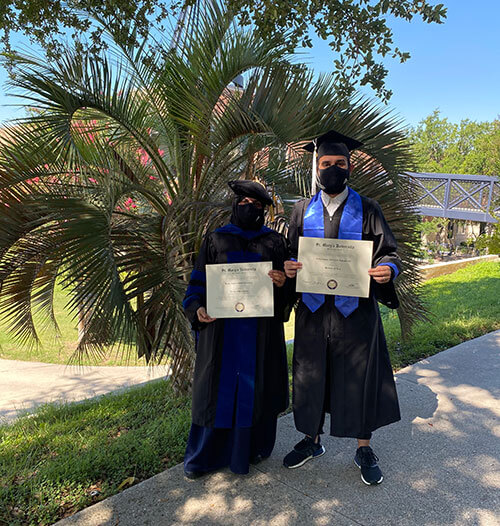 For Abdulrahman Almaghlooth (B.A. '20), he not only went to college with his mother, Reema Alhowaish (Ph.D. '20), but also graduated with her in the spring as part of St. Mary's University's first virtual Commencement ceremony.
It was because of his mom's influence that Almaghlooth chose to study Psychology at St. Mary's.
Originally from Saudi Arabia, Almaghlooth, alongside his mom and two brothers, moved to the U.S. when he was in 10th grade, finishing his senior year at John Paul Stevens High School in San Antonio.
"After giving it some time, I talked with my mom and decided the Psychology program felt like a better fit for me," he said. "Once I started taking psych classes, I was immediately engaged. I was happy."
Almaghlooth recalled his mother sparking in him an early interest in psychology by explaining various puzzles and photos from an IQ test book when he was 8 years old.
"She was always helping me with homework, teaching me things in subtle ways. She would say, 'If you got a bad grade, it's because of how much effort you put into it.'"
Alhowaish had long been a teacher in Saudi Arabia when she began working toward her master's degree in counseling psychology, which she said felt like a natural career move.
"I chose this because as an educational counselor, people have trusted me. They feel that I have the wisdom to provide consultation for my family and friends," she said.
After obtaining her master's, Alhowaish, with support from Saudi Arabian government funds, relocated her family to the U.S. so her sons could attend American universities and she could start a Ph.D. program.
Once in the U.S., Alhowaish furthered her knowledge of speaking and writing in English while offering her children unwavering support as they prepared their futures.
Amid a time of uncertainty, she said getting accepted into St. Mary's was "like a gift from God."
Alhowaish is the first Arabic woman at St. Mary's to earn a Ph.D. in Counselor Education and Supervision in the concentration of neurofeedback — a discipline that implements real-time displays of brain activity to teach self-regulation of brain function.
While Almaghlooth and Alhowaish didn't take classes together, they occasionally linked up to study in the Blume Library.
"Professors knew me before I came into the program because of my mom," Almaghlooth said.
Almaghlooth called the Department of Psychology a "family" in which a whole class of 25 students "would be sitting together typing up 15-page research papers."
A highlight for Almaghlooth was traveling with classmates to SeaWorld San Antonio to learn concepts in operant conditioning with seals and whales in a course taught by Professor of Psychology Heather Hill, Ph.D.
Of St. Mary's becoming a home for an international mother-and-son duo, Hill said this "speaks volumes about the University's emphasis on developing the whole person."
"It's nice to have people with different perspectives and cultural experiences to pull in," Hill said. "That's part of our world, the psychology phenomena — discovering what's universal and what are the differences. It reminds all of us it's a much bigger world."
One of the things Almaghlooth most looked forward to was walking the stage with his mom.
But when the coronavirus pandemic rendered that impossible, he dressed up anyway and celebrated at home with a small group of friends.
"I got more excited seeing my mom's name on the virtual video than mine," Almaghlooth said. "She wasn't getting just any degree, but a Ph.D.! I tell her, 'You're Doctor Mom now.'"
Although still adjusting to his graduate education being in a virtual format for now, Almaghlooth felt "insanely great" to continue on at St. Mary's.
"The professors, the way they educate, they're among the best teachers I've had," he said.