by Alex Z. Salinas (B.A. '11)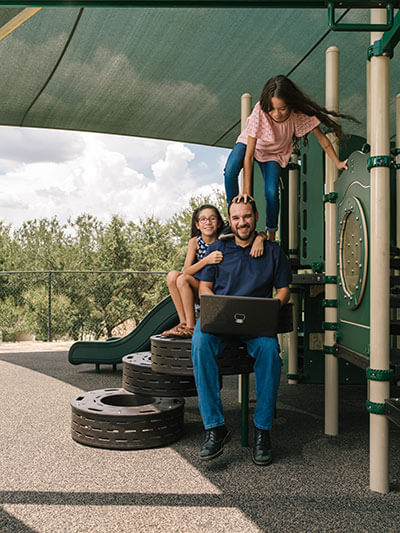 Wearing blue jeans and a graphic T-shirt depicting the 1985 film, The Goonies, Mark Maldonado (M.S. '19) admitted to dressing like that for work.
"I'm kind of a geek, a big gamer," the United States Department of Defense employee said with a smile. "Every week, my kids, some friends and I play Dungeons & Dragons."
Though Maldonado's personality is laid back, he recently completed some serious work while a graduate student at St. Mary's University. With the help of a Master of Science in Cybersecurity from St. Mary's, Maldonado morphed into an entrepreneur and cybersecurity expert, who has built a system to protect children from browsing adult content online.
Maldonado spent 15 years in the Air Force, including a tour in Afghanistan, working with computers. After leaving active duty, he wanted to add to his technical knowledge base.
In Fall 2016, he enrolled at St. Mary's.
"My prior military training, which was really grueling, made the transition into the Cybersecurity graduate program easier," Maldonado said. "Also, I've practically been a developer since I was 12."
The San Antonio-native's father was a software engineer who performed disk operating system (DOS) programming at home.
"I was curious, so he gave me a textbook," said Maldonado, who now has three children of his own. "I read the whole thing and ended up writing a calculator program."
While in the Cybersecurity program, a fellow parent's concern about her children accessing inappropriate content online inspired the idea behind his final research project.
Having already built hardware components for a proxy server (a server which people use to access other computers), Maldonado decided to develop a neural network — in other words, artificial intelligence.
Maldonado's project, titled Web Proxy Analytics Engine, the research behind which was also published in the International Journal of Cyber Research and Education in December 2018, is a proxy server intended for home users that is "trained" to block web content based on user preference.
This can include content from adult websites, political websites and even sports websites, if, for example, "you never want to hear news about a particular team," said Maldonado, a proud Dallas Cowboys fan.
The proxy server's neural network proactively blocks content using Maldonado's complex algorithms.
Ayad Barsoum, Ph.D., Associate Professor of Computer Science, said Maldonado's research "combined machine learning techniques, natural language techniques and cybersecurity tools to provide safe web browsing for kids and allow parents to monitor, control and protect them."
The proxy server, which is half the size of a shoebox, is something Maldonado and two of his business partners are preparing for market release.
Their company name is NVByte, and the company has plans to launch its first product called Vital.
"From the welcoming and homey environment of the campus to the diverse culture of the program, I enjoyed my St. Mary's education," he said. "This program, which was heavy on the programming side, really allowed me to get my hands dirty. I liked that."