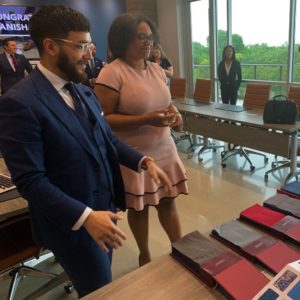 When third-year St. Mary's University School of Law student Tanisha Taylor walked into the Patel Gaines San Antonio law office for a small reception last week, the last thing she expected was that she'd be fitted for a custom-tailored suit.
"I was very overwhelmed and very thankful," she said.
Taylor finished the 2018-2019 academic school year with the most pro bono hours of any St. Mary's law student: 225 service hours.
"Community service is very important to me. Growing up, my mom owned several day care centers and always taught us to give back, even if it was just little things like taking our toys and giving them to kids in the daycare," Taylor said. "You never know what can change a person's life, and it never hurts to give back."
The suit that Taylor eventually settled on — after looking through a myriad of colors and patterns — was a classic gray with red pinstripes. Her name and total service hours will be engraved in the jacket lapel.
Having a professional wardrobe may not be an issue most people think about, but it is an underrepresented concern that students have, said Grant Gaines, (J.D. '10) partner at Patel Gaines.
"This is something Tanisha can use in the coming years when she starts working at the clinics, when she works her first job. It will serve a function to better her career," Gaines said.
That's why, in addition to awarding future deserving St. Mary's Law students with custom-tailored suits, Patel Gaines is sponsoring the Office of Career Strategy's Suit Up Station, where students can find belts, blazers, blouses, pants, shoes, ties and even purses.
"We're looking for professionals that have lots of great clothes they can give back to the law school, to give back to the students who may not be prepared, because law school is extremely expensive," said Rahul B. Patel, J.D., managing partner. "If they've got an opportunity to give back, this is a great opportunity to make someone feel really good as they enter the workforce."
Taylor describes her time at St. Mary's so far as challenging and rewarding. So far, she's had an opportunity to work for the Office of the Attorney General in the consumer protection division, Haven for Hope, the Office of the Public Defender and in Dallas through the law school's Alternative Spring Break program.
"Students say, 'In the first year of law school, professors scare you to death. In the second year, they work you to death. And in the third year, they bore you to death. But I doubt I'll be bored anytime soon," Taylor said.