August 20, 2019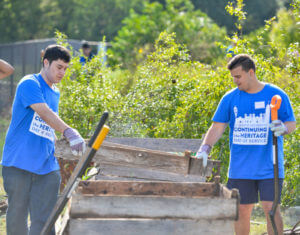 One of incoming students' first activities at St. Mary's University will be to join about 800 St. Mary's community members — students, faculty, staff and alumni — to volunteer across San Antonio. The biannual service event called Continuing the Heritage will take place on Saturday, Aug. 24.
The service event brings together the University community to volunteer for projects, such as cleaning up graffiti; improving nonprofit facilities through painting, yard work and office cleanup; sorting and organizing donations for various nonprofits; and working and spending time with children.
Texas First Lady Cecilia Abbott, honorary chair of the 2019 Governor's Volunteer Awards, and OneStar Foundation announced this month the 10 recipients of the 36th annual Governor's Volunteer Awards. St. Mary's University garnered the Higher Education Community Impact Award at the University level. This award honors the exemplary service of individuals, groups and organizations that have made a significant and measurable contribution to their communities through service and volunteering.
This follows recognition from Catholic Charities of San Antonio earlier this year, for which St. Mary's University earned the organization's Partner School Volunteer Recognition Award. In 2010, the University won the U.S. President's Higher Education Community Service Honor Roll's top-ranking Presidential Award.
Continuing the Heritage volunteering
Volunteers will gather on the Flex Field at The Park at St. Mary's at 7:30 a.m. for an opening ceremony, which includes breakfast and prayer, before beginning their morning of service. From 9 a.m. to noon, they will serve at sites including:
Catholic Charities of San Antonio, at the Guadalupe Community Center, St. Stephen's, St. PJ's Children's Home and Seton Home; volunteers will clean up the food pantry, clothes closet and the community garden, sort donations and help beautify the campuses.
No Graffiti SA, at several locations, volunteers will split into smaller teams to pull off stickers and paint over graffiti on dumpsters, retaining walls, etc.
Roy Maas Youth Alternatives, at various sites in San Antonio and Boerne, more than 140 volunteers will assist in multiple capacities — from painting the Family Counseling Center and the gymnasium to sorting items at the Thrift Store.
The Dream Center, at 2903 W. Salinas St., about 50 volunteers will help hand out food and clothing, paint and help with yard work.
Haven for Hope, at 1 Haven for Hope Way, volunteers will assist with cleaning and maintenance efforts at the Courtyard and Transformational Campus.
Family Services Association, at 3014 Rivas St., volunteers will assist with painting and play with children at the center.
"In San Antonio, we are surrounded by need — be it in the form of hunger, poverty or social issues. But, when we organize our efforts, our community can provide service on an impressive scale. Together, we can meet those needs," said President Thomas M. Mengler, J.D. "Twice a year, St. Mary's University students rise early, gather in the hundreds and spread out across the city to help a variety of nonprofit organizations. They exemplify the commitment we can all make to serving each other. Few days make me prouder than those of Continuing the Heritage when I can see our students carry out our Catholic and Marianist university mission to serve the common good grounded in faith."