July 9, 2019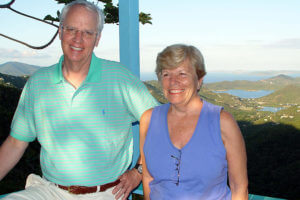 A $500,000 gift from the C.B. and Anita Branch Trust will grow the C.B. and Anita Branch Endowed Law Scholarship at St. Mary's University School of Law in San Antonio.
The new gift brings the total given over the years to the School of Law by the Trust to about $650,000. Jim Drought (J.D. '69), partner with Drought Drought & Bobbitt LLP in San Antonio, helped bring the gift to fruition as a trustee of the C.B. and Anita Branch Trust.
"St. Mary's University and its School of Law is honored to carry forward Anita Branch's strong Catholic values with this scholarship endowment," said President Thomas Mengler, J.D. "Through this generosity and the commitment of Jim Drought, St. Mary's Law will be better able to encourage the pursuit of justice through future generations of St. Mary's lawyers."
Anita Branch, wife of the late Charles B. Branch, the former president and chief executive of the Dow Chemical Company, made a scholarship donation to St. Mary's — Drought's alma mater — after Drought represented her interests in a legal matter and she later designated him as a trustee.
"What I've done is continue to benefit the charities that I know that she favors, mostly Catholic organizations, and St. Mary's was one of them," Drought said.
Drought said that once he understood St. Mary's Law's need for additional scholarship funding to recruit and retain highly qualified students, the gift "seemed like a natural thing to do."
"We need more people who will go to law school and defend social issues and help out the underprivileged," he said.
Law students eligible for the scholarship will be in the top 25% of their class and will have demonstrated financial need. The scholarship will also give preference to Our Lady of the Lake University graduates.
"My dad, who was a lawyer, told me, when I was about 10 years old, that being a lawyer was to guarantee that justice is done," Drought said. "He said, 'If you can make a living doing it, that's a byproduct of being a lawyer. The most important thing is seeing that justice is carried out.'
"A lot of St. Mary's graduates are going to have that feeling of the duty of being a lawyer," he added.