December 3, 2018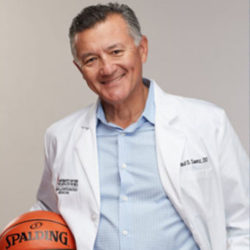 St. Mary's University alumnus Paul S. Saenz, D.O., team physician for the NBA San Antonio Spurs, the San Antonio Missions Baseball Club and St. Mary's University, will serve as keynote speaker at the 18th annual Fall Commencement on Saturday, Dec. 8.
The ceremony will mark a defining moment for 283 new graduates. The university will award 149 bachelor's degrees, 140 master's degrees and four doctoral degrees. The Commencement will include the first 11 students to earn a degree through the Greehey School of Business' MBA for Professionals Program.
Saenz earned his Bachelor of Arts in Biology from St. Mary's University in 1979 and then his medical degree from the Texas College of Osteopathic Medicine in Fort Worth. He completed family practice training in Phoenix, followed by a sports medicine fellowship in Seattle. He returned to San Antonio in 1988 and established himself as the city's first primary care sports medicine specialist. He is the founding partner of Sports Medicine Associates of San Antonio and was named a St. Mary's University Distinguished Alumnus in 2010.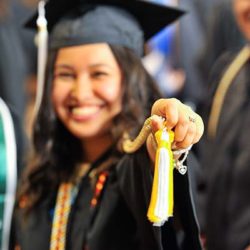 Commencement will begin at 1:30 p.m. in Bill Greehey Arena, inside the Alumni Athletics & Convocation Center on the St. Mary's campus. Baccalaureate Mass will be held Friday, Dec. 7, at 5:30 p.m., also at Greehey Arena. Media are welcome at both events.
Livestreaming video of Fall Commencement is available for family and friends who are unable to attend the ceremony in person.
The St. Mary's School of Law will honor 49 Doctor of Jurisprudence, Master of Laws and Master of Jurisprudence candidates at its seventh annual Hooding Ceremony on Friday, Dec. 14, at 3 p.m. in Conference Room A of the University Center on campus. Professor of Law David A. Dittfurth, J.D., will provide remarks at the Hooding Ceremony.
More on Paul S. Saenz
Saenz is board certified in both family practice and sports medicine and is an Associate Clinical Professor at UT Health San Antonio and the University of North Texas Health Science Center. He also is an adjunct faculty member of the University of the Incarnate Word School of Osteopathic Medicine.
He was appointed to the medical staff for the 1996 Olympic Games in Atlanta and for the 1998 Goodwill Games in New York City. He served as team physician for USA Pentathlon at the 2004 Olympic Games in Athens, Greece.
In 2012, he served as team physician for USA Track and Field at the World Indoor Championships in Istanbul and was also appointed National Team Physician for USA Basketball. In that role, he accompanied the gold-medal-winning team as they participated in pre-Olympic competitions in Manchester, England, and Barcelona, Spain.
In August 2015, Saenz was inducted into the National Hispanic Heritage Hall of Honor for his record of achievement and excellence in the areas of athletics and education.