by Alex Z. Salinas (B.A. '11)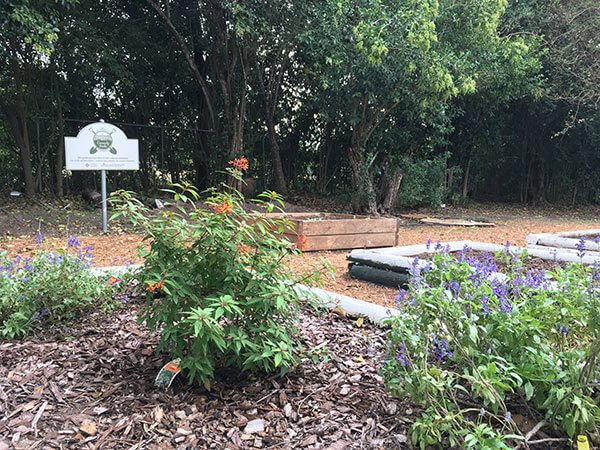 People might not know that for many years Marianist brothers on the St. Mary's University campus maintained a garden located behind the Center for Legal and Social Justice. But as time went on, the physical challenge of managing the garden became increasingly difficult for the brothers.
The last Marianist to run the garden, Brother Chaz Lorenz, S.M., passed away in fall 2015, and at that time, the garden's future was up in the air.
Then Associate Professor of Environmental Science Evelynn Mitchell, Ph.D., stepped in with a vision to revive the garden and grow food for the community.
As chair of the St. Mary's Sustainability Committee, Mitchell helped the committee acquire the garden and applied for a grant to "develop a structure with which we could reach out to the community."
By early 2016 they had received the grant and got to work weeding the garden and spreading a natural fertilizer. Mitchell created training manuals for gardeners and bought tools, seeds, soil, mulch and pollinating plants.
In fall 2016, the Community Garden was in business.
A dedicated staff and volunteers now manage the garden, and they have produced about 75 pounds of vegetables so far.
"We've harvested carrots, turnips, radishes, potatoes, onions, squash and Brussels sprouts," Mitchell said. "Last year, all of this produce was donated to the San Antonio Food Bank to help give back to our community.
"This year, we have a goal to try and donate our produce directly to groups in the neighborhoods surrounding St. Mary's."
Irene Astran, junior Political Science major, is a student volunteer at the Community Garden.
Coming from a university in Hawaii where she worked on farms as part of service-learning groups, she was eager to do something similar here.
"I jumped at the opportunity to join the project because I longed to get my hands dirty and feel the satisfaction that this type of work brings," Astran said.
This past summer, Astran said she visited the garden one to two hours every day to water and weed plots. Though she's in classes now, she still makes it out to the garden about once a day.
"I'm very impressed with what we have produced," she said. "I feel that it's important for the university to maintain a community garden because it creates a great opportunity to bridge the campus community and those living in the surrounding neighborhoods."
For Mitchell, the Community Garden is "a link in the chain of sustainability."
"In order to have a sustainable world, we need to have healthy food resources for everyone available," she said. "By giving back to our community and showing people that healthy foods can be grown in their own backyard, we hope to be able to help improve the health of those in our community."
For information on volunteering or making donations to the Community Garden at St. Mary's, contact Mitchell at emitchell1@stmarytx.edu or 210-431-8030.