Lynda Ellis' collaborative leadership style is the foundation of her success.
by Jasmine DeLeon (B.A. '11, M.A. '15)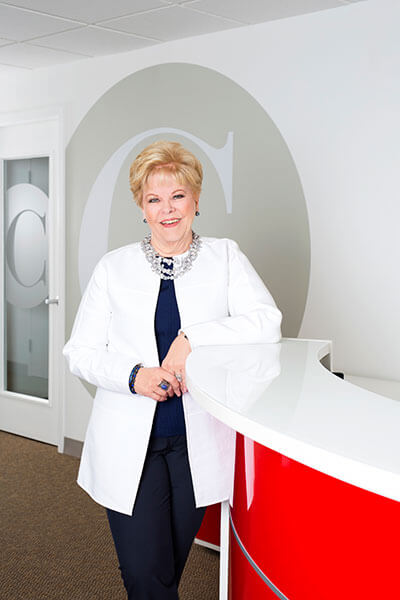 Lynda Ellis' first rule of leadership is to connect personally with employees and clients, to always ask what they need, and what is — or isn't — working.
"Years ago, when I was very young and working for another company, no one asked what was important to us, how could we be more effective," said Ellis (B.A.S. '81). "I wondered, why aren't they asking?"
She believes leaders should not assume they know it all. Ellis learned a lot simply by asking what most irritates a new team — it's a tricky but important leadership method that helps her know more about the company while establishing trust and transparency with employees.
"No one has all the answers," said Ellis, who is the owner, president and CEO of Capitol Concierge, Inc., based in the Washington, D.C., area. "The notion of being open to hearing what you may not want to hear is important."
Ellis' leadership style is working. Under her direction, Capitol Concierge has become the nation's largest provider of concierge services for commercial office properties, upscale apartments and condominiums, retail shopping malls, private corporations and individuals.
She credits her St. Mary's University education with preparing her for her future. She came to the University as a married student with a teenaged daughter, three part-time jobs and a strong determination to succeed.
"When I was at St. Mary's, I was going through a difficult time. St. Mary's, the people there, supported me," she said.
Ellis gives the example of longtime Philosophy Professor Brother John Totten, S.M., who noticed she had registered for what would have been her third class from him. "He said, 'I see that you've enrolled in my class. I've taken you out. You need other people's perspective.'"
For Ellis, this was an embodiment of the St. Mary's spirit.
Today, she wears many hats: CEO, entrepreneur, mentor, member of the St. Mary's University Board of Trustees, wife and mother. But she is particularly proud of being able to keep a healthy balance in her life.
"Business is business, and family is family," said Ellis, who has blended the two by having family members working alongside her. Ellis' husband is the contract manager, her son is a recruiter, and her daughter is vice president of marketing.
In 2016, Ellis was recognized with the Profiles in Success Award, which is presented to business leaders in the Washington, D.C., area who consistently demonstrate character, chemistry and caring. While she appreciates the recognition, she believes her success is the result of many peoples' efforts.
"You cannot rise without helping others up," Ellis said.
This is why she celebrates others' success and encourages a collaborative spirit by mentoring young professionals.
"If I'm achieving, others are achieving. That is how companies grow."