by Anndria Flores (B.A. '12)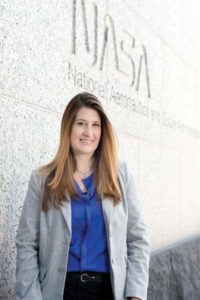 As a public affairs officer for the National Aeronautics and Space Administration (NASA), Katie Hambleton (B.A. '04) gives the public the inside scoop on the latest space initiatives, like a new capsule that's going to take people deeper into space than ever before. She also writes about space phenomena and can tell you all about cell growth, radiation and dark matter like a seasoned expert.
Hambleton has even mastered NASA's plethora of fun acronyms, such as ELVIS (Expendable Launch Vehicle Integration Services) and SSIKLOPS (Space Station Integrated Kinetic Launcher of Payload Services).
"I get really excited about learning new things — the science, learning about the rockets," Hambleton said. "I also like the fact that I get to tell people we're going to send people to Mars."
She never imagined she'd work for NASA. A Psychology major at St. Mary's, she developed a passion for marketing, registering for every marketing course she could.
"I was always interested in the way people think and the way people make decisions," she said. "I was interested in the intersection between psychology and marketing."
One day while Hambleton was preparing for graduation, her Honors Program director asked about her plans after college. She explained that she was interested in psychology and marketing.
He asked, "How do you feel about marketing something like soda to children when it gives them cavities?"
"I had never thought about it like that," Hambleton said.
The conversation made Hambleton think about her career as a vocation and the importance of working for a company that has a mission aligned with her values. In a circuitous way, that one conversation led her to public service.
After graduate school at the University of Maryland, where she focused on social influence and attitude change in their Department of Communications, she landed a job at the U.S. Department of Health and Human Services in Washington, D.C., where she worked for several departments before joining NASA.
When asked what advice she'd give her younger self to prepare for what she does today, Hambleton lightheartedly replied: "I probably would've told my younger self to major in Engineering. I really love working with all the engineers here at NASA."
Hambleton is proud of her work at NASA, but believes her greatest success has been never compromising her values.
"I love the fact that I work for an organization with a strong mission. By respecting myself and my integrity, I am respected in my field and organization," she said.
"By those measures, I am successful."