by Anndria Flores (B.A. '12)
Kristal Cuevas quit her corporate job and found her calling in a yoga studio.
Eager for a change of pace away from the fluorescent lights and 9-to-5 office setting, she started a retail job. Cuevas enjoyed the position, but it wasn't until she attended a yoga class that she discovered her calling.
"I felt I could really connect with my body and my breath," said Cuevas (B.A. '04). "I said, 'This is the answer. This is what I could potentially do.' I realized I wanted to teach yoga."
Cuevas took classes to become a yoga instructor and taught corporate and studio classes. But what she really wanted was her own studio. While her first venture was short-lived — she and her investing partner didn't see eye-to-eye — she knew what she wanted.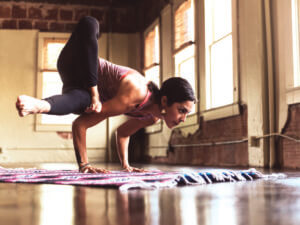 Cuevas hit the streets in search of a new studio with the unwavering support of her husband and a small loan from her in-laws.
"I found this passion and knew I wanted to own my own business," she said.
The first day looking, she found what would become Southtown Yoga Loft.
"Everything that has happened since we opened has been an act of good fortune and karma," Cuevas said.
She has since added a second location in Helotes and offers services that are fueled by her passion for healthy living. She said her studios are the only ones in San Antonio with prenatal and postnatal yoga.
"For me, it was important after I had my little one to promote women's health and wellness pre- and post-baby," Cuevas said. "I love that I can passionately talk about the benefits and importance of taking care of your life in terms of diet, yoga and moving your body."
To help pour good karma into the community, Southtown Yoga Loft offers a weekly Karma Yoga class. There is no fee for the class, but a minimum donation of $5 is suggested and 100 percent of donations go to a charity, nonprofit or community cause.
"I really enjoy teaching in the community. That's the only way we'll grow, and we do it wholeheartedly."
In 2014, Southtown Yoga Loft received a Best of the City Award from San Antonio Magazine, was named a Best of San Antonio 2016 winner in the Around Town category by the San Antonio Current, and Cuevas was recently featured in Texas MD Monthly's first Health and Wellness issue.
Cuevas encourages aspiring entrepreneurs to write out specific goals and talk about them with their support system.
"When you put it in the universe, you're forced to make it happen.
It was influential in opening my business."