by Alex Salinas (B.A. '11)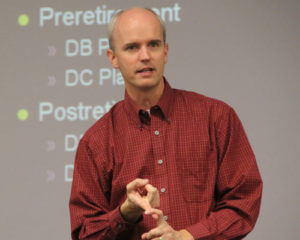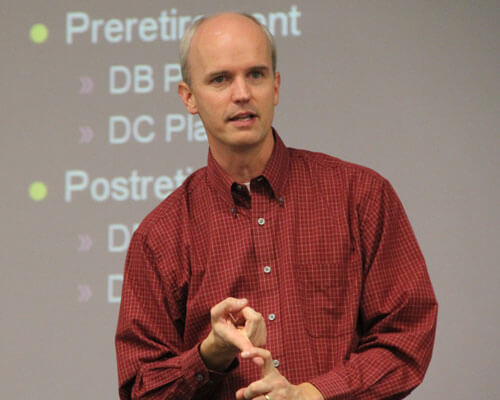 Students of David Sommer (B.B.A. '89), Ph.D., Charles E. Cheever Chair of Risk Management, will tell you he's the best at what he does in the classroom, but in the field of insurance, academics will tell you he's in a league of his own.
Sommer was recently recognized in a national study published by the Journal of Applied Risk Management and Insurance where he ranked No. 4 in the Most Prolific Contributing Authors in the Seven Leading Risk Management and Insurance Journals list for the past decade and No. 7 in the same category for the past 30 years.
Despite the recognition, "my focus is not research; my passion is teaching students," Sommer said.
While he's built a prolific portfolio inside and out of the classroom, his entire career path was the result of a chance conversation from a professor more than 25 years ago.
Sommer recalled being approached by Jerry Todd, Ph.D., a business school professor who retired from St. Mary's in 2007, after his class one day.
"Have you ever thought about getting a Ph.D. in insurance?" Todd asked Sommer.
He had not, but the more Todd explained about it, the more Sommer listened and was intrigued. That conversation set his focus in motion. So when Sommer had the opportunity to come back to St. Mary"s in 2007 – this time as a professor – the decision was a no-brainer.
"I teach at St. Mary's because I love this place," he said. "I have loved it ever since I came here for Sleeping Bag Weekend when I was in high school. It was here where I deepened my faith, discovered my potential, developed my talents, determined my career path and met my wife."
Having opportunities to influence students like his old professor did to him drives Sommer to renowned success.
Looking back, he's just returning the favor.
We caught up with some of Sommer's former students to learn how he inspired them.
Braxton Watson (B.B.A. '09, M.B.A. '13):
"I was fortunate enough to have two undergraduate courses with Dr. Sommer and receive a guest lecture from him during my 2013 MBA capstone course, which was another opportunity he steered me towards. His passion for the material and ability to connect with students is second to none. He regularly follows up with me on my life after St. Mary's both personally and professionally, and every time I'm back on campus, I make it a point to go back and see him. I can say without hesitation that the only reason I'm in the insurance field is because of Dr. Sommer."
Watson is a senior underwriter at The Hartford in Houston, Texas.
Lyla Ruesewald (B.B.A. '11):
"Dr. Sommer was an excellent resource who shared his knowledge on the various paths I could take with a degree in Financial Services/Risk Management, so I dove in. Throughout my remaining time at St. Mary's, he was a constant mentor – from helping introduce me to all three of my internships to helping me search for my current job at Zurich Insurance. The foundations he provided from both an educational and industry-relationship standpoint has led me to where I am today and continues to play a role in my seeking additional industry education through Chartered Property Casualty Underwriter (CPCU) courses."
Ruesewald is a senior medical malpractice underwriter at Zurich Insurance in Dallas, Texas.
Ben Odom (B.B.A. "10):
"Dr. Sommer opened my eyes to a career in insurance that I never considered prior to going through my first Risk Management class he taught. I was able to get a summer internship at USAA thanks to Dr. Sommer and his ability to find internships for his students. When I think of a good professor, I think of a class that I enjoyed and a class that I learned a lot in. When I think of the best professor I've ever had, I think of Dr. Sommer. Students find his class interesting and they learn a tremendous amount about the subject he is teaching, but most importantly they build a relationship with him that will last as long as the student will allow it to. If it wasn't for him, I wouldn't be where I am at."
Odom is a broker with McGriff, Siebels and Williams in Houston, Texas.