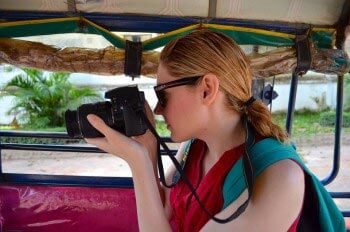 When Christina Ekleberry (B.A. '11, M.A. '12) graduated from the International Relations graduate program at St. Mary's University, she was certain of one thing; "I simply wanted to go into the world," says Ekleberry.
A close friend encouraged her to work abroad, teaching English. Ekleberry didn't need much convincing to pack her bags and jump on a plane once she realized she could pursue her dream of encouraging sustainable human development. She now keeps record of her travels around the world through her blog, Backpacks and Blackboards, where she offers traveling tips, interesting articles, and photographs of her latest adventures.
Q. What is Backpacks and Blackboards about?
I started Backpacks and Blackboards to share my experience and expertise on living and traveling abroad. Unlike other travel websites, and there are many popping up, B&B's focus is the encouragement of sustainable human development. We can't always be doing hands-on work for change, but we can enrich our own understanding and then bring this to others.
Q. What inspired you to create it?
My inspiration came from my exhaustion from hearing people tell me that I was lucky to live and travel abroad, and my eagerness to share new perspectives with those back at home who have not yet found their wings. I do consider myself very lucky to live abroad, but I wanted others to understand that I made this happen. I made the conscious decision to leave a desk job and a routine life behind. Being an expat is a choice that really anyone can make at any age. I wanted to be that encouragement for those sitting at home always staring out the window.
Q. What are you doing in Taipei?
During the time of graduation, a good friend who is also an alum of the St. Mary's graduate International Relations program, convinced me to go abroad to teach English. She is in Taipei finishing a Ph.D. and, needless to say, she did not have that difficult of time persuading me. So here I am, teaching English and SAT test prep abroad and enjoying the challenges of being an expat.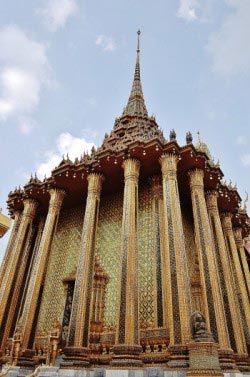 Q. What has inspired you to travel?
Besides a few travel experiences at St. Mary's, I never really traveled all that much. Over time, I became more self-aware of this energy inside, guiding me towards needing to understand human culture. Travel has become the outlet of that spiritual energy. It has allowed me to explore different facets of life around the globe and has also connected me with the non-living as well. As I travel, my understanding of the roles and qualities that make up life have begun to form more rich dimensions. Further, I have made unspoken pacts with the cities, landscapes, and elements also found along the way.
In the deeper sense, there's a lesson to be learned: We are all connected to everything. Travel is more than just seeing what has been established, but recognizing that we impact what others will see in the future. That spiritual energy inside encourages me to absorb all the good and bad of today, so that I can project better knowledge and energy unto the next generation.
Q. What and why do you teach?
I teach English and SAT test prep to students looking to study abroad. My main focus is in writing and grammar, two subjects I absolutely love. I teach these two areas because of their importance in expression. For me, there is nothing as rewarding as being able to give someone the ability to express and communicate. I help students find their sense of voice and then properly share it with the world. That skill will forever be with them.
Q. What are your areas of interest?
I have always been fascinated with cultures around the globe, marveling at how many different ways humans have adapted to life. My real passion, however, lies in encouraging sustainable human development initiatives. The St. Mary's graduate IR program fostered this passion further, and now I try to incorporate those ideals into all I do and see.
Q. How did your time at St. Mary's influence your experiences after graduation?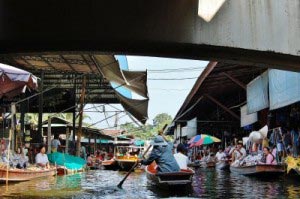 There is a long list that I could rattle off about the influences St. Mary's has given me. Yet, there have been a few genuine professors that have influenced my experiences the most. Through their lessons and encouragement, they have fostered this notion that the most important path to take is the one that embodies your passion, regardless of how non-conventional that path might seem.
I remember after a particular discussion in one professor's office just before completing my master's, I realized I could easily go into the corporate world, the political world, or the academic world and be successful. However, I simply wanted to go into the world. Now, a year and a half later, I am sitting halfway around the globe preparing to cook Asian food while the sounds of Taipei filter through my open windows.