by Chris Jarvis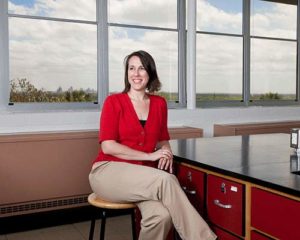 Susan Oxley, Ph.D., doesn't mince words when explaining chemistry's place in the world.
"You can be a doctor and help thousands of people, or you can be a chemist and help millions," Oxley said, quoting her favorite adage.
Luckily, her favorite research topics have some of the broadest applications. Oxley investigates and designs chemosensors — chemical compounds that can be used to detect other chemical compounds.
She is currently developing a modified chemosensor that can detect the presence of metal ions, such as calcium and magnesium, using fluorescence. Oxley anticipates this will allow detection of very low concentrations of metal ions, while being selective about what is detected.
"San Antonio in particular has very hard water, and hard water is characterized by a high presence of calcium," Oxley said. "Being able to measure these calcium levels easily is very important for improving water quality."
Still, Oxley considers herself an educator above all else. She designs research experiences to show how questions can be answered though experimentation and data analysis. She often invites her students to participate in her own work with chemosensors for hands-on enrichment.
"The most fulfilling thing for me is helping the students learn something new," she said. "It's really fun to see them come in as these wide-eyed freshmen and watch them grow as people and thinkers."
Earlier this year, Oxley was awarded the 2014 Distinguished Faculty Teaching Award. Between creating new chemosensors and guiding her students' research experiences, Oxley is in her element.
"I love being a professor," she said. "It's nice when you're able to both love something and be good at it."