by Nicolette Good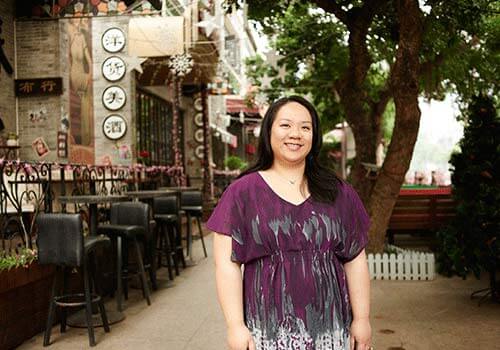 Being a Foreign Service Officer means representing the United States abroad for diplomatic purposes. But Anne Claire Andaya-Nauts (M.A. '06) knows it's much more than that.
Today, Andaya-Nauts is the Vice Consul at the U.S. Consulate General in Guangzhou, China, a city of 8 million people.
"When doing visa interviews, I may be the first American an applicant has ever met, and I want to make sure that I represent my country well," said Andaya-Nauts.
Her first Foreign Service assignment was in Chennai, India, an experience that challenged her to learn a new language and to be flexible at all times.
"As much as we plan for our lives in another country, there is always something new or different that we did not think of."
She and her husband, along with their three young children, know well what it's like to be an American living in a foreign country, which makes assisting other Americans abroad one of the most rewarding parts of Andaya-Nauts' job. The consulate's American Citizen Services unit helps Americans abroad with a variety of situations, from reporting lost passports to completing paperwork for American babies born abroad.
"I once helped a grieving American whose wife had passed. Situations like that remind me that one of our priorities is assisting U.S. citizens overseas," she said. "I love helping our citizens and being a friendly face."
Andaya-Nauts first considered joining the Foreign Service as a high school student, in part because living overseas sounded exciting. And it is. She knows that as a Foreign Service Officer, she could end up just about anywhere.
"You must be worldwide available."