Olivia Navarro-Farr, Ph.D. (B.A. '98), and a team of archaeologists made a career-defining discovery in the summer of 2012: In a collapsed chamber in Guatemala was the tome of Lady K'abel, a powerful Maya queen who ruled the ancient city of El Perú-Waka' with her husband more than 1,300 years ago.
"She was very well renowned," said Navarro-Farr, Assistant Professor of Anthropology at the College of Wooster. "One of her titles is 'kaloomte' which means supreme warrior. She is a rare woman with this powerful designation that sets her apart, even from royal men."
Navarro-Farr has spent the past 10 years visiting and studying the site of an ancient Maya city in Guatemala. Its palaces, plazas and residences now lie in rubble, but one of its buildings still contains relics, tokens and other offerings left by people centuries ago.
"I hypothesized that there were deep and important memories associated with that building, powerful enough to be remembered for centuries to follow."
And she was right.
"This is one of only around five royal burials in the Maya world that have associated epigraphic (inscriptional) evidence that gives the historical identification of the individual," she said.
A Modern Indiana Jones
"We spent long days on our sides, under cramped and uncomfortable circumstances," said Navarro-Farr of working on El Perú-Waka' Archaeological Project.
Her team worked tirelessly despite the physical strain because, as more and more valuable artifacts were uncovered, looters threatened to move in. Navarro-Farr's group had the cooperation of the Guatemalan army, which was camped nearby for protection, but even that did not guarantee the site's security.
"We didn't have a lot of time to waste," she recalled. "Every day that you're not finished is another day that things are exposed and vulnerable to looting."
Thieves were not the only risk they faced. As the rainy season began, the makeshift roads that weaved through the forests quickly turned to mud.
"There is no real road – just paths. At one point the truck I was in had to be pulled out with a pulley, and it took hours."
But after four months, the team had unearthed the remains of the powerful Maya figure whom history had only known through the objects and works of art that referred to her.
The Warrior Queen Unveiled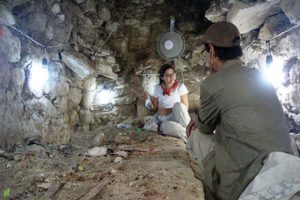 Navarro-Farr's lifelong interest in Prehispanic Mesoamerica and her experience working side-by-side with indigenous peoples in Guatemala helped her grasp the weight of this discovery – both in and out of the history book.
"It's remarkable because it's a Maya woman with a strong, political cache and the incredible title of warrior," she said. "That does a lot for young women, indigenous women and indigenous communities. Every little bit of knowledge is important."
In many ways, the archaeologists' work had only just begun. The news of Lady K'abel was broadcast to the public, but many Guatemalans live rurally with limited access to this kind of information. Indigenous communities were even more disconnected due to language and other barriers.
"Largely, the onus is on anthropologists and archaeologists to give lectures to local and indigenous communities and advocate for education, just as we would in our own country."
Archaeology for the People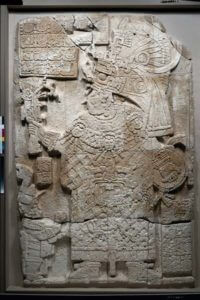 Navarro-Farr often reflects on the roles that ethics and values play in her field, especially when she gives lectures to Guatemalan communities on her findings. She watches as the people become more connected to their own history.
"St. Mary's has influenced my way of doing archaeology. Its emphasis on social justice helped me understand what is right or appropriate versus doing something merely because it advances my career."
St. Mary's is also where she first tried her hand at a dig: She went to Belize with The Maya Research Program as an undergrad and found herself spearheading excursions to archaeological sites that weren't even on the itinerary.
"Before that, I wasn't sure I would even like excavating, but I always had an intellectual fascination with the past. I was fascinated as a kid with ancient places, things and cities. I would imagine what it would have been like back when these places were actually bustling."
Today, Navarro-Farr and her team explore the very same questions she asked herself as a young girl. She plans to continue work at the site of El Perú-Waka' for years to come, but not every day will contain a discovery of Lady K'abel's magnitude. When asked if she thought she'd ever come across the Maya queen's tomb, she calmly said, "We can never know."