The scene unfolds rather predictably whenever Dan Weyland tells someone he owns a race car.
"They look at me," the 73-year-old says, "and they say, 'You're doing what? Do you mean you own a team?'"
Not quite. He's driving the car.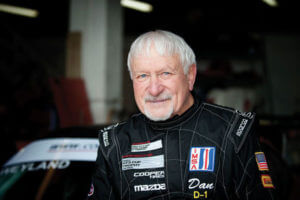 Weyland (B.B.A. '60) races professionally in the American Le Mans series, regarded as one of the world's leading prototype and GT endurance circuits. He's been circling the tracks for 18 years, all thanks to a spontaneous purchase of a race car he made when he was 55. A little grayer — OK, considerably grayer — than the competition, Weyland laughs off the disbelief over his hobby.
"I don't take offense anymore," he said. "When we put those suits and helmets on, you can't tell a 16-year-old from a 73-year-old. We all look the same, and the car doesn't know the difference."
Racing, Texas Style
Weyland recently competed on one of the sport's biggest stages, racing before an international audience of nearly 120,000 in November 2012 in the Pirelli GT3 Cup Trophy USA West, a support event at the Formula 1 US Grand Prix weekend at the new Circuit of the Americas in Austin. Driving a bright orange car with a large St. Mary's University decal covering the driver's-side door, Weyland knows the crowd probably didn't expect someone of his age to be inside the car.
"People are surprised I took racing up when I did, and then they're surprised that I'm still doing it," he said. "But why wouldn't I? I wouldn't give this up. I would get much older much faster if I gave up racing. I feel like I'm representing a generation."
Weyland made most of his living in real estate development, having specialized in developing medical office buildings in Houston before moving to Denver, where he now lives. He is president of Weyland Enterprises and MedPro Management, and he also founded the WECANDO Foundation, which supports charities in the Denver area. Despite his busy career, Weyland still found himself looking for new hobbies later in life.
Enter racing. A lifelong sports fan who grew up in San Antonio playing basketball, baseball and football, Weyland never shied away from a competitive challenge. He later picked up tennis and skiing and always admired racing from afar.
"It was the only sport that I watched that I didn't understand," Weyland said. Eager to change that, Weyland, 55 at the time, signed up for a racing lesson in hopes of learning the nuances of the craft. He figured he'd learn a little about technique and mechanics — just enough to make watching the sport more enjoyable. But by the time the session was over, he had purchased the car and the license to go with it. Just like that, he was ready to race.
"It was instantaneous," Weyland said of falling in love with racing.
At Home on the Track
Weyland knows some people might think he's eccentric, or just a daredevil. But while he enjoys the speed of a race, it's the camaraderie with his crew and the other drivers that keeps him going.
"When you read about the Class of 1960 . . . there are not too many of us competitively driving race cars."
As such, Weyland has become an ambassador of sorts for the sport – and on how to live life. Following months of preparation and excitement heading into the November Grand Prix race — one of the few times he has raced in Texas – Weyland strapped into his car and took off from the starting line. But heading for the second turn of the opening lap, his engine began to fail, leaving Weyland facing the distinct possibility his day would end mere minutes after it started.
"All of a sudden, I had gone for a gear and got nothing," he recalled. "My crew asked if the engine was running. I wasn't really sure. I hit the ignition again and it restarted, but by then I was behind everybody."
Something had triggered a built-in safety feature to kick in, shutting off the engine. While Weyland never expected to win the race, the breakdown nixed his chance to remain competitive at all. Weyland was, in the end, last to cross the finish line.
"I was actually in good shape until the engine stopped," said Weyland, who included the St. Mary's logo on his car in honor of a place that remains close to his heart after receiving his marketing degree in 1960.
"St. Mary's was good for me. Now, here I am, doing something like this that is a different type of thing. I'm proud of it."
Which is why his temporary engine failure was all but irrelevant in the end.
"The car is clean, and the St. Mary's sticker is still looking good. That's got to be a good ending, right?"