Artist James Joffe, M.F.A., must have a soft spot for viewers who, as children, flipped through the newspaper to the funnies just for the Magic Eye. On first viewing, the wild movement and colors in his paintings present a distinct feeling. But after peering at a piece's title – names like "Her Charmed Incantations," "See the Trees," or "Embrace Still Waters" – the elements on the canvas shift and give way to a greater vision.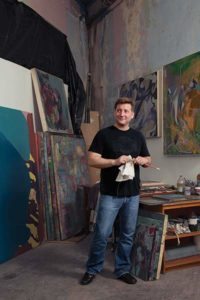 Joffe (B.A. '96), Visiting Assistant Professor of Art, calls his works nonrepresentational compositions, and he says his titles should "encourage the viewer to be playful in their interpretations."
Paintings like "Developing Telekinesis to Overcome Gravity" pair garish colors with glowing ones, spastic gestures with graceful strokes; the result is angelic or nightmarish, depending on your perception. Other works like "Sun Setting on Soft Evening Hills" betray their plain titles and invite you to step into a calm, delicate mist of hues and forms. And if you were to linger, you might lose perspective and find yourself in a happy hallucination.
Joffe counts among his early inspirations the South Texas landscape, but today he draws from a more urban life: the layers of abandoned, sun-faded billboard vinyls and the sounds of city buses as they woosh past his studio.
In between teaching classes, he heads to that studio in the Deco District on Fredericksburg Road, a primitive workspace he shares with Brian St. John, M.F.A., Chair of the Art Department. The space is full of evidence of his process (Joffe often pours paint onto canvases that lie on the ground), but his creations are greater than the sum of their parts. It's a reminder of how transformative art can be for both the artist and the viewer.
"You never know where life will lead you," mused Joffe, and the same can be said of his work.
Samples of James Joffe's work