About the program
Students majoring in Economics at St. Mary's learn how people make economic decisions and how institutions affect those decisions, both in theory and in practice.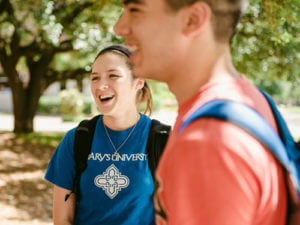 Economics students are interested in diverse topics, including business opportunities analysis, economic development of third-world nations, environmental protection, policy evaluation, urban and regional planning, international trade and entrepreneurship.
Courses and Degree Plan
Students can pursue one of the following program options:
Bachelor of Arts in Economics Requirements and Degree Plan
Minor in Economics Requirements and Plan
Research Opportunities
The Department of Economics provides students with opportunities for experiential learning, allowing them to work side by side with researchers and community members.
The SABÉR Research Institute is an economic development think tank dedicated to researching regional economies and their development. SABÉR provides St. Mary's students with research, internship and paid consulting opportunities. These are unique ways to gain professional experiences working with county, city and state entities while providing the community with valuable data and economic analysis services.
Career opportunities
Entrepreneur
Economic consultant
Economic analyst
Teacher
Government-sector economist
Financial analyst/advisor
Public policy analyst
Market analyst
Learn More about the St. Mary's Economics Program
Loading…