Laura Cabanilla leads corporate responsibility efforts to aid diverse populations
by Jennifer R. Lloyd (M.B.A. '16)
Laura Cabanilla (B.A. '01) says she has the best job in the world.
As the corporate responsibility director at USAA, Cabanilla has helped distribute tens of millions of dollars to philanthropic projects that make a difference in the San Antonio community and individuals' lives.
"What other reward can you ask for? And then, when you're surrounded by a great team and a great company, it makes it even better," said Cabanilla.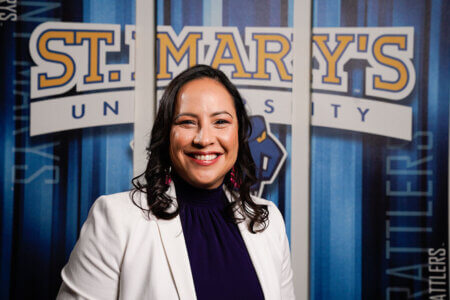 She added that the funded projects advance diversity and inclusion efforts, boost economic mobility for underrepresented populations and allow others access to career opportunities. About a year ago, St. Mary's University benefited from this program with a $1.15 million grant funding the USAA Gateway to Graduation scholarship for Hispanic and Black students majoring in Science, Technology, Engineering and Math.
The work that Cabanilla does today builds on lessons she learned along the way — from studying at St. Mary's; participating and coaching in a variety of sports; working in City Hall; building a consulting business; moving into the corporate world; and serving on boards, such as Leadership San Antonio and VIA Metropolitan Transit.
"I try to be grounded in experience," Cabanilla said. "Volunteering and serving on all these different committees and boards have given me the opportunity to think differently, from the perspective of that organization, and to pick up skill sets for board leadership and engagement."
Education for economic opportunity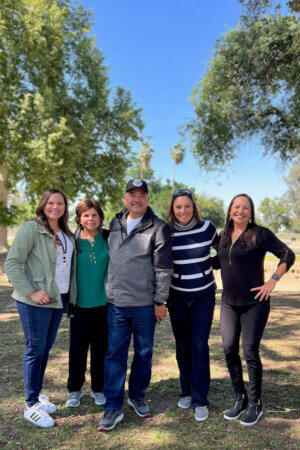 Growing up on San Antonio's South Side, attending Harlandale High School and not having much opportunity for travel beyond visiting relatives in California, Cabanilla reflected on how important her education was to her trajectory.
"You're bound by your school, your friends and what you don't know," said Cabanilla, the first generation in her immediate family to finish college. "What you don't know sometimes is what impacts you in the long run. Education is, for me, the key to economic mobility. It opens so many different doors."
During her final years of high school, Cabanilla said college was a discussion, but it wasn't the discussion in her household, which also emphasized their Catholic faith, love of sports and focus on family.
But several other top students in her high school class were enrolling at St. Mary's. So, she visited and spent a night in a residence hall. After that experience, she said to herself, "Ok, I can do this."
Then she joined the Rattler Basketball team as a guard during her first year and was soon followed by her similarly athletic sisters, Jennifer Hicks (B.B.A. '03, M.B.A. '06) and Christina Koucouthakis (B.B.A. '04), both Rattler Volleyball players.
"Service has always been at the core of the St. Mary's approach. How do you help your community?"

Laura Cabanilla
Cabanilla studied Political Science and was considered adding another major when the war in Kosovo began. Her father, who was in the Navy Reserves, was called to active duty. She said she became driven to understand public policy and enrolled in a semester of study in Washington, D.C. Through the program, she visited the U.S. State Department, heard from senators and representatives, and learned about the impacts of foreign policy on domestic policy from think tanks.
She still recalls one of Garcia's class exercises during which students acted as members of city leadership to decide where to locate an imaginary medical center or jail.
"I remember Laura in our simulation for Texas Politics," Garcia said. "She struck me as having a real passion for politics and attuned to issues surrounding social justice."
Continuing a passion for service
Those classroom discussions helped prepare Cabanilla for an internship with Ed Garza's city council office that rolled into working as the volunteer coordinator for his mayoral campaign and on to being chief of staff for Councilwoman Antoniette "Toni" Moorhouse and Councilman Roger Flores.
"Service has always been at the core of the St. Mary's approach. How do you help your community?" Cabanilla said. "At City Hall, a lot of what we did was to help the district. So, when I started in District 3, it was a southeast area of the city, one of the under-resourced areas with lots of need. When we asked individuals to volunteer, it was helpful to have that servant leadership background."
From her time in politics, the mother of two daughters continued to work toward empowering women and girls, as well as embracing her passion for sports, as director of the GoGirlGo! San Antonio program for the Women's Sports Foundation.
"What I do now has allowed me to have a different lens to view how we can impact our community."

Laura Cabanilla
She also had a consulting company for 14 years, beginning during her time at City Hall, before transitioning to help establish a commercial/residential painting company with one of her sisters.
"Entrepreneurship is another opportunity for people to build their own wealth and drive economic mobility opportunities for their families," Cabanilla said.
Her career also included working her way up to the interim CEO role of the economic development organization formerly called the West Side Development Corporation, starting an orthopedic device company with her former husband, rising in the rankings in community relations for Wells Fargo and then transitioning to USAA.
"What I do now has allowed me to have a different lens to view how we can impact our community," Cabanilla said. "We want to support military families and veterans. That's our top priority for USAA — military family resiliency. At the same time, how do we think through the communities that we're in and help support them? We give to and focus on higher education through scholarships, helping create that career and talent pipeline, not only for USAA, but also for other companies to hire diverse individuals."