by Alex Z. Salinas (B.A. '11, M.A. '19)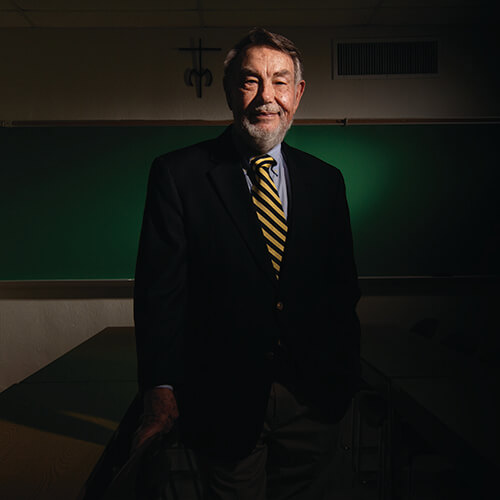 Charles Cotrell, Ph.D., aka Charlie. To generations of St. Mary's University alumni, his name signals a jaw-dropping 55-year teaching career, or serving as the University's first lay president from 2000 to 2012.
Students may recognize him — the President Emeritus and Professor of Political Science — as the person for whom the Cotrell Learning Commons, located on the first floor of the Blume Library, is named.
"A student once told me, 'Oh, you're Cotrell! I thought that guy was dead!'" Cotrell recalled, laughing loudly.
After Spring 2021, Cotrell, age 80 — a St. Mary's mainstay since 1966, taking on roles as department chair, director of graduate programs, dean and mentor to generations — retired, though he isn't fond of that word.
"My wife, Abbie, and I plan to take bucket-list road trips, visit our (four) sons and spend more time with grandchildren," of whom there are six, Cotrell said.
Born in South Side San Antonio, Cotrell spent time in the Hill Country before graduating from Comfort High School.
Raised Presbyterian, yet deeply influenced by an aunt, he converted to Catholicism at age 13. His spiritual turning point prompted his uncle to inform him about St. Mary's, where Cotrell enrolled in 1958.
"There were about 1,000 students," he remembered. "It was all male, and the law school was downtown. The Brothers really were the people who were the instructors, wearing their traditional black coats."
After receiving his bachelor's in Government and master's in Political Science from St. Mary's in 1962 and 1964, respectively, Cotrell earned his Ph.D. from the University of Arizona in 1970.
By then, he was already establishing an enduring legacy in the classroom at St. Mary's.
But it's outside the classroom, in the 36 years since I graduated from St. Mary's, that he's had the biggest influence on my life.

Clary Clack
José Angel Gutiérrez (M.A. '69), J.D., Ph.D., founding member of the civil rights group Mexican American Youth Organization. Arturo Vega (B.A. '81), Ph.D., and Sonia Garcia (B.A. '84), Ph.D., Political Science professors at St. Mary's. Cary Clack (B.A. '85), columnist for the San Antonio Express-News and 2017 inductee of the Texas Institute of Letters.
These are just a sprinkling of the many illustrious alumni Cotrell influenced.
"The classes I took with him forever changed me and my professional trajectory," Garcia said. "His long-lasting legacy is in his role as mentor to so many St. Mary's students, who went on to have successful careers as political scientists, elected officials, civil rights leaders and community activists."
Vega called Cotrell, "one of the youngest and coolest professors on campus," when he first met him in the late 1970s — back when Cotrell drove an orange Volkswagen Beetle.
"His hair was a tad longer then. He wore blue jeans, a sport coat and an occasional tie," Vega said. "He accepted students as they were and wherever they came from."
Aaron Hanna (B.A. '10, M.P.A. '11, M.B.A. '13), St. Mary's Vice President for Administration and Finance, said Cotrell "encouraged each of us to use the gifts God gave us to better our community and the lives of those around us."
This embodiment of servant leadership factors into why Clack felt Cotrell "was the best classroom teacher I ever had."
"But it's outside the classroom, in the 36 years since I graduated from St. Mary's, that he's had the biggest influence on my life," Clack said. "What I think of most is his innate generosity, the gentleness of his personality and the strength of his moral convictions."
Among Cotrell's proudest achievements is his quarter-century devoted to being an expert witness in constitutional law cases, in which "political science came alive" to help indigenous tribes, including the Navajo and Hopi.
He credited the "heart of the St. Mary's mission" as a driver of his efforts — stemming from a "regenerational love" of teaching.
"We're a place people come to for high-quality education, whether they're Catholic or not," Cotrell said. "Our philosophy is focused on the whole person, and that ethos continues to endure."
Watch Cotrell discuss his next chapter here: