January 10, 2022
The USAA Gateway to Graduation Scholarship will assist Black and Hispanic students majoring in STEM fields
St. Mary's University has received a $1.15 million grant that will fund the USAA Gateway to Graduation scholarship for Hispanic and Black students majoring in Science, Technology, Engineering and Math (STEM). This grant is part of USAA's continued focus on advancing diversity, equity and inclusion — specifically focusing on education — and will help to foster a pipeline in San Antonio of Hispanic and Black professionals in these critical fields.
"As a Hispanic-Serving Institution, St. Mary's is committed to preparing our students for meaningful careers and helping them to close the achievement gap for minorities in STEM industries," said St. Mary's President Thomas M. Mengler, J.D. "With this generous grant from USAA, St. Mary's will continue taking bold steps to ensure we are fully supporting our students and integrating diversity, equity and inclusion into our Catholic university context."
The scholarship will be awarded to more than 100 Hispanic and Black students during this academic year, with the goal to improve the retention and graduation rates of Black and Hispanic students. In April 2021, the Pew Research Center published findings that Latino and Black individuals account for just 8% and 9% respectively of all STEM professionals. The report emphasized, "the long-term outlook for diversity in the STEM workforce is closely tied to representation in the STEM educational system, particularly across the nation's colleges and universities."
"A bachelor's degree remains the best gateway for Hispanic and Black students into a purposeful career, but the financial burdens of tuition continue to obstruct their pathway to educational attainment," said Sheri King, Ph.D., St. Mary's Associate Vice President for Diversity, Equity and Inclusion. "The USAA Gateway to Graduation Scholarship is a testament to the important role scholarship support plays in supporting the education and future careers of underrepresented students."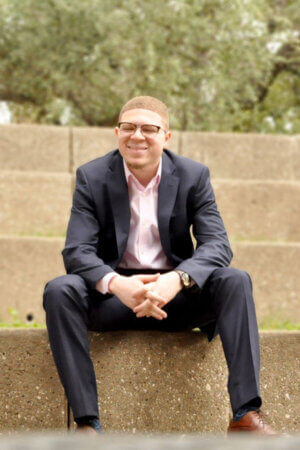 Tromance Washington Jr., a senior Engineering Management student originally from Milwaukee, said the USAA Gateway to Graduation Scholarship made a huge difference to him as a first-generation college student and the first in his immediate community to study engineering.
For Washington, who lives by the mantra, "If you fear something, you should push two times harder to do it just to get yourself out of that comfort zone," the scholarship allowed him to strive even more on his senior design project. He said the funding allowed him to dedicate more time to the project rather than working in a grocery store. To decrease the spread of COVID-19 in airports, Washington's project involves designing an electrical component to send notifications when airport hand sanitizer dispensers need to be refilled.
This philanthropic gift will help St. Mary's reach the $150 million goal for The Defining Moment Comprehensive Campaign. St. Mary's publicly announced the campaign in November 2017. The campaign's goals have improved every area of the University, including raising more than $25 million for priorities in the School of Science, Engineering and Technology and more than $50 million in scholarship funding. The Defining Moment Comprehensive Campaign has ignited in alumni and partners a renewed commitment to the vision to make St. Mary's one of the finest private institutions in the Southwest.