by Jennifer R. Lloyd (M.B.A. '16)
Different languages, unique cultures and more than 7,000 miles are just a few minor details separating Texas from South Korea.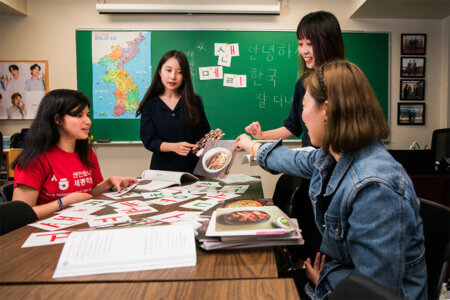 But with the help of the San Antonio King Sejong Institute at St. Mary's University, the two cultures are brought together through Korean language, art, music, drama and history classes. St. Mary's students can earn credit by learning Korean and get inspired to study abroad, and community members can enjoy free courses in various subjects.
Eleanor Lee, a native San Antonian in her 20s with Korean heritage, said she was nervous about signing up for the community courses because she's an introvert but found the instructors to be more like "an extension of friends."
"Everyone at the institute is so welcoming, so caring, that you instantly feel at home," said Lee, who took five classes in Fall 2022 and worked her way up to the highest-level Korean language course offered during the Spring semester. "It's interesting to know that I'm not so far away from my culture, even though I am across the entire world."
Housed in St. Louis Hall since 2020, the Institute is an interdisciplinary effort through the College of Arts, Humanities and Social Sciences, directed by Seongbae Lim, Ph.D., Professor of Information Systems Management in the Greehey School of Business.
The Institute is named for the Korean monarch who lived from 1397 to 1450 and who developed the phonetic system for writing that is still in use. The South Korean government supports the Institute, created through a partnership with Dongseo University in Busan.
It's one of about 250 such locations in nearly 90 countries, but only two in Texas. Lim's focus on improving cultural literacy among St. Mary's students and the San Antonio community was part of the draw for creating a St. Mary's location.
"Everyone at the institute is so welcoming, so caring, that you instantly feel at home."

Eleanor Lee, San Antonio community member taking classes with the San Antonio King Sejong Institute
"South Korea is a very unique place because, in Korea, many cultures interact," Lim said. "Historically, the country was influenced by China, and then it went through Japanese occupation. And after the Korean War, it was influenced by America strongly. But it still has a unique people. Learning the Korean language and culture is a good way to understand many cultures together."
Encouraging Korean studies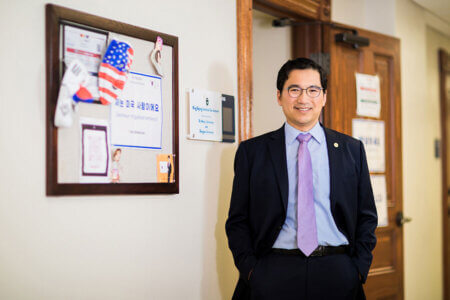 Sujin Kim, a Visiting Lecturer from Daegu, Korea, teaches several of the Institute's language courses. She said some of her students were inspired to learn the language in order to watch Korean dramas, like Squid Game, without subtitles. Others want to understand the lyrics of K-pop music, a style of music emanating from South Korean musicians who blend Western pop, R&B and hip-hop sounds with Korean elements.
One of Kim's students, Mariana Mata, a St. Mary's International and Global Studies and Spanish double major, is among the K-pop fans. The junior took three Korean language classes before traveling to South Korea this spring to study abroad at Anyang University in Anyang.
"Learning Korean was scary at first, not gonna lie, because it is a completely different language from your usual Western language," Mata said. "I had to learn a completely different writing script."
But Mata said Kim was patient with the class and "encouraged us to break out of our shell."
"When students actually use Korean in real life," Kim said, "that is the most rewarding part of my teaching."