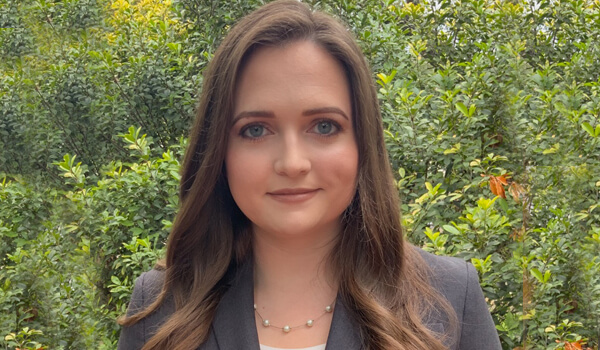 For most of her undergraduate career, Rebecca Fuller (J.D. '21) thought she wanted to go into the medical field. It wasn't until one of her professors called her into his office and asked her to consider pursuing at least a minor in writing that she realized she had a talent for it.
After becoming aware of her talent and knowing she had a love for research and writing, she decided she'd try law school. Her grandfather, a St. Mary's University School of Law alumnus, John R. Courtney (J.D. '67), spoke highly of the school and influenced her decision to enroll.
She honed her writing skills further at St. Mary's, and she won the Catholic University of America Columbus School of Law's inaugural CSL Prize in Judicial Clerkship Opinion Writing earlier this year.
"Honestly, I was shocked. I was honored just to be able to attend, and several people there had actually already been clerking," Fuller said. "I think it was good for me to see that I could kind of be on that level with these people, because it's not a skillset we really get to explore during law school."
During her law school career, Fuller was active on the St. Mary's Law Journal and the St. Mary's Law National Team as captain of the mock trial team. She also had an opportunity to intern for the Hon. David A. Ezra of the United States District Court for the Western District of Texas in the summer after her first year of law school.
The following fall, Ezra contacted Fuller again and offered her a clerkship after graduation.
"I got really lucky that I was able to get my foot in the door and didn't actually have to go through most of the process, because it can be really, really hard to get a clerkship," Fuller said.
Fuller said she learned from many professors during her time at St. Mary's, but she especially enjoyed the tutelage of Professor Emeritus of Law Bonita K. Roberts, Hardy Director of Advocacy A.J. Bellido de Luna and former Law Success instructor Josh Childress.
"Professor Childress was just so good. He would comb through our work and tell us exactly what we needed to work on, down to the word," Fuller said. "He would have to be the person I attribute my legal writing skills to."
The next step in her legal career: her 2021-2022 clerkship for Ezra.
"Law school really turned me into the person I am today, where I'm like, 'You know what, let's do it and see what happens,'" Fuller said. "Unless you're willing to take that risk on yourself, how can you be expected to advocate for someone else?"