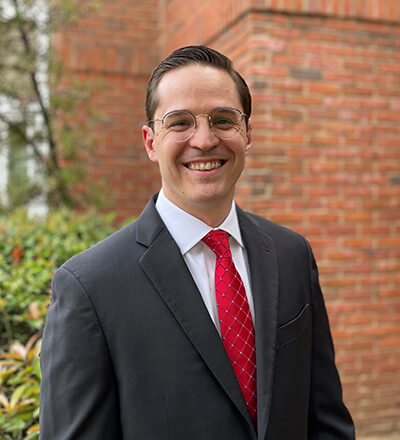 Rising second-year J.D. student Michael Tucker, from San Antonio, was halfway through his 47-page brief in the Spring 2021 semester at the St. Mary's University School of Law when he caught COVID-19 and was out of commission for nearly two weeks.
Even so, he kept working on it, only for most of Texas to lose power due to the February winter storm. It was a weird time, but he gained a number of skills from the experience, he said.
"I will say that I feel very confident on how to use legal citations. You learn to step out and be like, 'This is my argument,'" Tucker said. "You really learn to pay attention to details."
Tucker's efforts — including rationing his electricity for his laptop during brief moments of power — paid off, as he was awarded the Section D Best Brief Award and the Excellence in Writing Award — Best of All Sections. These awards were sponsored by Laveta Casdorph (J.D. '99).
"Draft after draft, Michael found, shaped, and connected ever more creative arguments and ingenious strategies to overwhelm the reader with the correctness of his conclusions, said Jennifer Spreng, J.D., LL.M., his Law Success Instructor. "The only reason I am not amazed a first-year student thought of such astonishing ideas is that Michael actually did."
Each year, all first-year J.D. students at St. Mary's Law perform research and write documents related to a legal dispute between two parties during their Legal Communication, Analysis and Professionalism (LCAP) I and II courses. The Legal Research and Writing faculty submit one brief from their class to the St. Mary's Law Journal editorial board. The board then selects one winner from each section, as well as an overall winner that represents the best brief of the first-year J.D. class. Tucker won the top prize.
In Spring 2021, the parties selected for the legal dispute were the United States and Seung-woo "Eric" Cho, an undocumented law student charged with possessing a firearm while unlawfully in the U.S. Each student chooses a party to represent and then writes a mock brief to the U.S. Supreme Court on behalf of their clients. Tucker chose the U.S., Spreng said.
Though his entire first-year experience was during the pandemic, Tucker, an evening student, said St. Mary's has been excellent in incorporating technology into the classroom, and the school has been understanding and supportive of students during this time.
"The professors have been flexible and supportive," Tucker said. "Overall, it's been a positive experience."