by Alex Z. Salinas (B.A. '11, M.A. '19)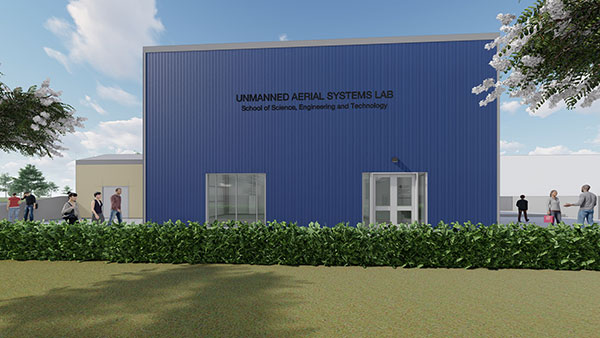 Construction is underway on the new Unmanned Aerial Systems (UAS) Laboratory — or Drone Lab — at St. Mary's University, slated for completion in October.
"This is an opportunity to add programming that will launch St. Mary's graduates into a fast-growing emergent industry," said Winston Erevelles, Ph.D., Dean of the School of Science, Engineering and Technology.
"The Federal Aviation Administration predicts the U.S. registered commercial drone fleet to climb to between 442,000 and 1.6 million units in the next few years, which will in turn create a few hundred thousand jobs," Erevelles said.
At 25 feet tall and 1,734 square feet, the Drone Lab — complete with a flight area, an observation area and workstations — will allow professors to incorporate drones into their curriculum and students to take on more drone-related research for industry partners.
"The Drone Lab is designed as a multi-purpose facility," said Professor of Electrical Engineering Bahman Rezaie, Ph.D., an early proponent of drone research at St. Mary's.
"Drone technology has been around for more than 50 years. However, it was exclusively used by the military and was not available to the private sector until recently," Rezaie said. "The more drones become part of everyday business in all aspects of life, the more need for a workforce that is knowledgeable and capable of maintaining and designing a variety of drones."
According to Erevelles, the facility will house new summer camps for high school students and also support the new UAS concentration under the B.S. in Engineering Science program.
"The new UAS concentration will integrate multiple engineering disciplines that are necessary for the successful preparation of our graduates to meet the needs of our region and beyond," he said.