by Alex Salinas (B.A. '11)
Environmental Science prof leads way to St. Mary's first water-sustainable tank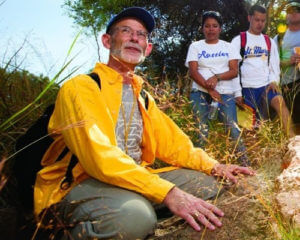 When St. Mary's University revealed its first rainwater harvesting tank – a 5,050-gallon, 10-foot-tall container that irrigates landscaping previously irrigated by pumped water – David Turner, Ph.D., Assistant Professor of Earth Sciences, couldn't have been happier.
To some, the water tank might look like an 800-pound chunk of real estate near Garni Hall, but for Turner, it is a diving board into the future.
Rewind to 2013. The iconic fountain in front of St. Louis Hall had been dry for a few years because of drought restrictions, and Turner had a gut-wrenching realization.
"There would be a whole cohort of students that may never see that fountain run during their time here," he said. "For something that beautiful, something we showcase on our postcards, it was a sad feeling."
In response, Turner asked students in his Environmental Geochemistry class that spring to evaluate whether sufficient rainwater was available to keep the fountain running during periods of drought.
They calculated nearly 240,000 gallons of water runs off Garni Hall's roof every year, more than 20 times the amount of water needed to keep the fountain operational. Most of this water travels into storm drains – unused.
Turner was determined to find a solution that would tap into a portion of the millions of gallons of water that fall onto University grounds each year.
In fall 2013, the idea of a rainwater harvesting system to run the fountain changed to one that could hydrate a potential campus garden as part of an entry in the 2013 EPA Campus RainWorks Challenge, an open competition to all universities and colleges in the U.S. – and one that Turner encouraged his Introduction to Sustainability class to enter.
Using work calculated from Turner's class the semester before, his next crop of students prepared the proposal and created a YouTube video.
Ultimately, St. Mary's did not win the EPA contest, but its entry proposal eventually landed on the desks of University administrators, who supported the idea.
Recipients of the 2013 St. Mary's University Presidential Award for Excellence were inspired and decided to fund the water-saving system using their award money.
Donors Rawley (B.B.A. '71) and Christine Weber and the School of Science, Engineering and Technology also chipped in to purchase the system, composed of a tank and small pump.
"This project stemmed from the work of a lot of individuals, and I'm so proud of the students and everyone involved," Turner said. "When I saw the (YouTube) video, I almost wept because for a while, we ran into some hurdles and it seemed like it wouldn't come together.
"But it finally did, and while we didn't win a contest, we won the hearts of our administration.
"We hope to raise awareness of the importance of being water-wise, so the system and the landscaping will become part of the St. Mary's curriculum and support our educational outreach to elementary and high school students from around our campus."