St. Mary's wardrobe opens for students in need of professional clothing
Alejandra Canamar was excited to attend a job fair for students at St. Mary's University, but there was one problem: She didn't have the right clothes.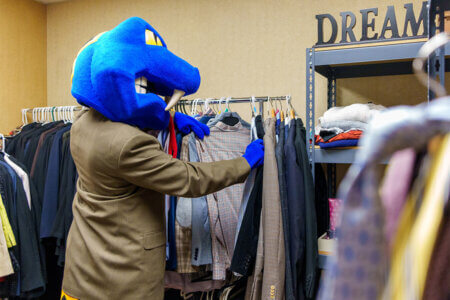 Thanks to the newly established Rattler Wardrobe at the Greehey School of Business, which loans professional clothing to business students, Canamar said she finally feels prepared to attend professional events. The Business School allows students to borrow clothes and return them cleaned.
"It was an out-of-the-ordinary idea, but it's something that, at least for me, was beneficial," Canamar said. "They even lent me shoes and jewelry. You name it, they have it."
A FANGtastic new wardrobe
Canamar is one of several business students who has used the Rattler Wardrobe, located in Albert B. Alkek Business Building, Room 222.
Founded by Business School's Work Study Supervisor Lisa Ann Garcia, the goal of the wardrobe is to create a clothing space for students who don't have the means of getting business attire.
Garcia wants students to be able to overcome clothing insecurity and build self-esteem to accomplish their goals.
"I'm here because I love to help the students and see them grow," Garcia said. "Anything I can do to help them along their way here in St. Mary's, or on their career path, that's the most fulfilling thing for me."
Canamar said borrowing clothes was simple.
"I'm here because I love to help the students and see them grow. Anything I can do to help them along their way here in St. Mary's, or on their career path, that's the most fulfilling thing for me."

Lisa Ann Garcia
After receiving an email from Garcia announcing the opening of the Rattler Wardrobe, all Canamar had to do was fill out a form, show her student ID, and she was offered entry to the Rattler Wardrobe, where she could look through professional clothes and get help picking out an outfit for her upcoming event.
"I help students style their outfits, so that way they know what colors match," Garcia said. "Something that matches their personality or their skin tone, so it fits the person."
All clothing is donated, and Garcia said anyone can email her to donate clothing to help students. The Rattler Wardrobe is looking for clean and well-kept business-professional clothing. Women's clothing is most in need.
Clothing options for students
While the Rattler Wardrobe is currently open to business majors, other avenues exist for those looking for clothing assistance.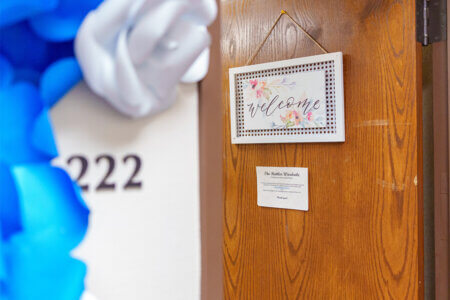 Stephanie Ward, Ph.D., Vice Provost for Vocation and Career Services and Professor of Management, who also leads the University's Career and Professional Development Center, said her office has met with Garcia to work together to bring a similar program to help all St. Mary's students, regardless of major.
Ward says that working together to address clothing needs is an extension of the University's Catholic and Marianist mission.
"How can we partner and help each other with these initiatives so that we can reach even more students? Those conversations are happening, and I'm excited about how it comes together," Ward said.
The Career Center, located in the University Center, will host a clothing drive from Wednesday, Oct. 18, to Jan. 31, 2024. During the drive, the Career Center will accept donations ranging from business casual to business professional. Anyone interested in donating can reach out to Taylor White, the administrative assistant of the Career and Professional Development Center, at twhite14@stmarytx.edu.
With St. Mary's taking steps to ensure students have what they need, Canamar said she feels confident the clothing services will become popular.
"I thought it was going to be complicated, but I was very impressed," she said. "Everything is so organized."
If you would like to donate to the Greehey School of Business Rattler Wardrobe, email Lisa Ann Garcia at lgarcia18@stmarytx.edu.