Friday's event raises funds for campus-wide programs
Jaclyn Quilantan, Ph.D. (B.S. '12), said St. Mary's University was good to her when she was attending school for her undergraduate degree. Now, she is working to give someone else that same chance.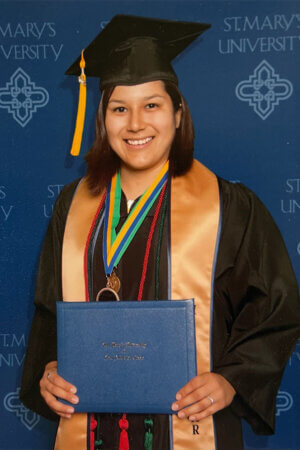 Quilantan is one of many alumni who donate during the annual St. Mary's University Giving Day. This year's Giving Day on Friday will benefit campus-wide projects, scholarships, research experiences, law student fellowships, academic clubs, athletics and ministry programs.
Quilantan said she's donated to the Annual Fund and the School of Science, Engineering and Technology Dean's Fund because everyone deserves to benefit from an education at St. Mary's.
"I give back because I want to give others an opportunity," Quilantan said. "The best thing you can get is an education."
The El Paso native said her decision to attend St. Mary's was easy because the University offered degree programs that would allow her to pursue her dreams.
As a student, Quilantan was involved with the American Chemical Society and TriBeta Biological Honor Society before graduating with a bachelor's degree in Biology and a minor in Chemistry. She later earned a doctorate in Biomedical Sciences from the University of North Texas Health Science Center and is currently Associate Director of Ophthalmology, Medical Affairs, at Apellis Pharmaceuticals.
One of the things she recalled fondly about her time on campus is the community. As a new student from out of town, Quilantan recalled how her classmates and professors helped make her feel more comfortable.
She said she hopes her gifts, along with all other Giving Day donations, help more students feel at home.
"This is about me giving back to that community and serving God," she said.
"I give back because I want to give others an opportunity. The best thing you can get is an education."

Jaclyn Quilantan, Ph.D. (B.S. '12)
Karah Renfrone, a senior Political Science major from Houston, said donations allowed her to receive scholarships and focus on her studies. Renfrone added it's also inspired her to give back to her community.
"I am forever grateful for the generosity of donors," Renfrone said. "Without their financial contribution and support they gave to me and countless other students, I would not have had the many opportunities I have been able to experience during my time at St. Mary's."
Jacob Hernandez, a third-year J.D. student from Laredo attending the St. Mary's School of Law, said the scholarships he received allowed him to attend classes full time while helping alleviate some stress at home.
"The financial burden that comes with pursuing a law degree was scary at first, especially coming from a single-parent household," Hernandez said. "However, the scholarship support from the University alleviated those fears and gave me the confidence I needed to pursue my goal of becoming an attorney."