by Norma Espinoza (B.A.'22)
St. Mary's University gardener Jose "Luis" Sanchez doesn't just watch his garden grow. His perseverance and care have helped the University to literally blossom for nearly 10 years. Last year, the University was able to return the favor.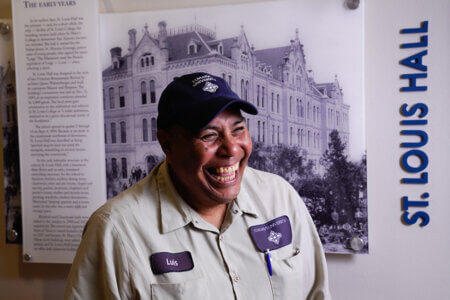 Sanchez, originally from Mexico City, immigrated to the U.S. in 1986 with hopes of traveling and visiting new places. Sanchez met his wife, Veronica, in San Antonio and soon decided to make the city his home.
He began working at St. Mary's in 2014, and the couple's only son, Luis Francisco Sanchez, is an MBA for Professionals student at the Greehey School of Business.
Edging toward citizenship
After 30 years in the U.S., Sanchez had the opportunity to apply for citizenship but was unable to afford the process. With some additional assistance, he became a U.S. citizen in February 2022.
One year after obtaining his citizenship, Sanchez still gives thanks to St. Mary's for the opportunities that changed his life.
"St. Mary's has taken care of me, and I take care of St. Mary's," Sanchez said.
Before working at St. Mary's University, Sanchez's previous employer went out of business, leaving him unemployed.
"It was very difficult times," Sanchez said. "I had to stand in line at church to receive food to help my family. I knew I could not give up."
In addition to losing his job, Sanchez also needed costly medical surgery. He desperately sought a new job and discovered a posting for a groundskeeper position at St. Mary's.
"St. Mary's has taken care of me, and I take care of St. Mary's."

Luis Sanchez
"I was not able to become a citizen back then due to lack of income," he said. "For years, I had to make a decision on what was most important: feeding my wife and child or becoming a citizen?"
When Sanchez received the job application form, he lacked groundskeeping experience and didn't think he would be qualified.
Sanchez applied anyway and, despite the odds, got the position in 2014 began working his way up to the role of gardener.
Determined to show appreciation to the University, Sanchez has gone above and beyond his duties over the years.
When he first started working, he asked his supervisor, Auxiliary Services Edward Dusha, for a bucket of paint.
Coming in on a weekend to paint parking lot signs in the parking lot, Sanchez remembers the look of amazement on the faces of faculty and staff when they saw the improvements that Monday morning.
When San Antonio faces bitter colds, Sanchez is on campus taking care of the plants.
"My plants are my babies, and I care for them as much I care for anyone," Sanchez said.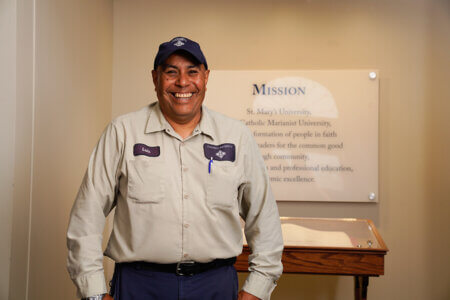 His hard work has not gone unnoticed. In 2015, St. Mary's President Thomas Mengler selected Sanchez for a President's Excellence Award, given each fall to employees who exemplify excellence.
Being selected for an award was an exciting moment, he said, but not as exciting as the day of the President's Excellence Award ceremony.
"I celebrated as if I'd won the World Cup," Sanchez said. "My hard work has paid off."
In appreciation to the President's Excellence Award, Sanchez contributed to purchasing the statue of Our Lady of Guadalupe in front of Casa Maria Marianist Community. Every day, he maintains the statue, his "Virgencita," thanking her for the blessings he receives. The statue now offers an important place for graduating students to capture a photo after commencement ceremonies. 
Many of those blessings, he added, would not have happened if the University had not taken a chance on him.
"Desde darme la oportunidad de empleo, a formar gran parte en obtener la ciudadania Americana," Sanchez said, or in English, "From granting me the opportunity of employment, to being a big part of obtaining the American citizenship, St. Mary's has truly been a blessing to my life."