Leading through tradition & innovation
When McAllen attorney Shiree Salinas (J.D. '90) first heard about the St. Mary's University School of Law's groundbreaking online J.D. program, she immediately wrote back to the law school sharing her excitement.
In Fall 2021, St. Mary's Law became the first law school in the nation to have a fully online J.D. program accredited by the American Bar Association (ABA). University leaders then announced their intention to recruit an initial cohort of 25 students to begin the online program in Fall 2022.
The new program, Salinas wrote to Patricia E. Roberts, St. Mary's Law Dean and Charles E. Cantú Distinguished Professor of Law, would "open up the doors to people who I believe would be true assets in the practice of law," so she was glad to hear her alma mater was undertaking the effort to make legal education more readily accessible.
"I know people who can benefit from this right now," Salinas said.
"I 100% enjoyed my first year, even though I never stepped foot on campus."

Kathryn Cantu, second-year J.D. student
Shortly before the program's announcement, Salinas recalled a conversation she had with a young man while renewing the registration on her vehicle. When she mentioned she was an attorney, he became animated, asking her questions about the law and mentioning how he wished he could attend law school.
"Because he was taking care of family members and working in McAllen, attending law school was just sort of a dream that probably would never be realized," said Salinas of the prospective student.
Online access to legal education
The four-year, part-time, online J.D. program will have the same tuition rate as the current in-person, part-time program and will provide access to the full suite of student services. Students will be required to attend an extracurricular in-person orientation and in-person professional development activities once every other semester. Since launching the program, part-time applications have increased by 650%.
The Hon. Mario E. Ramirez Jr. (J.D. '74), judge of the 332nd District Court in Hidalgo County, said there are many who do well on the LSAT law school aptitude test who cannot commit full time to a three-year law program because of financial or family reasons.
"Hopefully, more people who are worthy of going to law school can get accepted to St. Mary's through this program," Ramirez said. "Hopefully, in the long run, we can get some more lawyers down here in the Rio Grande Valley."
The new online J.D. aims to support increasing access to the profession for those typically underrepresented, especially those from South Texas, Roberts said.
Some parts of the Valley still struggle with a low ratio of attorneys to the general population, according to a 2020-2021 report by the State Bar of Texas. Starr County has one attorney for every 1,345 residents, while Willacy County has only one attorney for every 2,521 residents.
"The online J.D. program will provide the increased affordability of being able to obtain a legal education without a move to San Antonio," Roberts said. "While this will never replace our in-person J.D. program, it will expand opportunities for those in South Texas and beyond who need to stay closer to home while pursuing an excellent legal education."
With an overall enrollment of nearly 740 students, St. Mary's Law has gained significant expertise in offering fully online legal education since launching an online version of its Master of Jurisprudence (M.Jur.) program five years ago, said Colin Marks, J.D., the law school's Associate Dean for Strategic Partnerships and Innovation. In addition to the faculty with experience in virtual teaching in the master's program, all St. Mary's Law full-time faculty obtained their online teaching certification following a demanding course in instructional design to prepare for virtual teaching during the pandemic.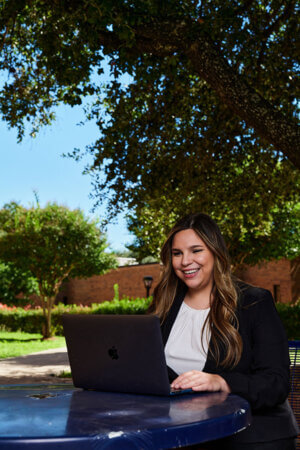 Currently, J.D. students are allowed to take up to 30 credit hours online in a traditional, in-person program format, according to the ABA. That sort of flexibility has allowed second-year J.D. student Barbra Gazo, who is taking fall semester classes remotely in San Antonio, to thrive.
"My personal experience has been particularly charmed," Gazo said. "For me, the actual learning experience was not only superior online, it was vastly superior."
In Gazo's experience, there was dramatically more interaction with the content of each lesson in an online format. Before every class, there was a pre-recorded lecture, a slide presentation and a quiz. While it was more work, it also led to more meaningful discussions because students understood the content better, she said.
"What I love about this program is that St. Mary's is not just pigeonholing. The face of the law has changed. The face of society has changed. St. Mary's is embracing that change," Gazo said. "They're not saying everyone has to be an online student. No matter who you are or what you do, you're going to find your place here."
Kathryn Cantu, a second-year J.D. student in the traditional J.D. program at St. Mary's, had a similarly positive online experience. She spent her first year taking courses online because of the coronavirus pandemic and said she learned a new level of discipline and commitment to earning her law degree by studying online.
Through virtual engagement, she was a member of the school's moot court team, which simulates an appeals court process, and placed first at the Jimi Derrick Moot Court Competition during the 2020-2021 school year.
"I 100% enjoyed my first year, even though I never stepped foot on campus," said Cantu, who is originally from Edinburg in Texas' Rio Grande Valley. "I also was able to establish really meaningful connections, not only with my classmates through group messages and Zoom calls, but also with my professors and with the administration at the law school."
Kellye Y. Testy, J.D., president and CEO of the Law School Admission Council, said the online J.D. could be game-changing, as other law schools will follow the path blazed by St. Mary's. She said the Council is "thrilled that St. Mary's University School of Law will further enable access to the profession by those unable to attend a three- or four-year residential J.D. program."
Justice Brett Busby, J.D., of the Supreme Court of Texas, said, "Texas is proud that St. Mary's is leading the way nationally by offering a rigorous online course of legal instruction leading to an accredited J.D. degree."
"Importantly, this part-time program will expand access to a quality legal education for Texans who do not live near a law school and whose work or family circumstances prevent them from relocating," he added.
Salinas would love to see more lawyers completing their education at St. Mary's Law. After the announcement, she planned to pay a visit to the young man she met while renewing her registration.
"I thought that I would drive back over there at some point in time and say, 'Hey, do you remember me? We had that long chat. And by the way, here's an opportunity from St. Mary's,'" Salinas said.
Watch a video about the Online J.D. Program below.