New minor and certificate focus on Mexican American Studies
Sierra Salas, a junior Political Science major at St. Mary's University, knows what she wants in a career: to serve the people of San Antonio.
Serving others has been a passion for Salas for as long as she can remember. On the West Side of San Antonio, she attends St. Alphonsus Catholic Church and volunteers in roles ranging from Catechism instructor to coordinator of religious activities.
At St. Mary's, Salas serves the student population as president of the University Programming Council, which oversees events promoting education, culture and diversity.
Whether through public service, like a job with city council, or community outreach working with a nonprofit, Salas wants her career to help not just her community on the West Side, but all of San Antonio.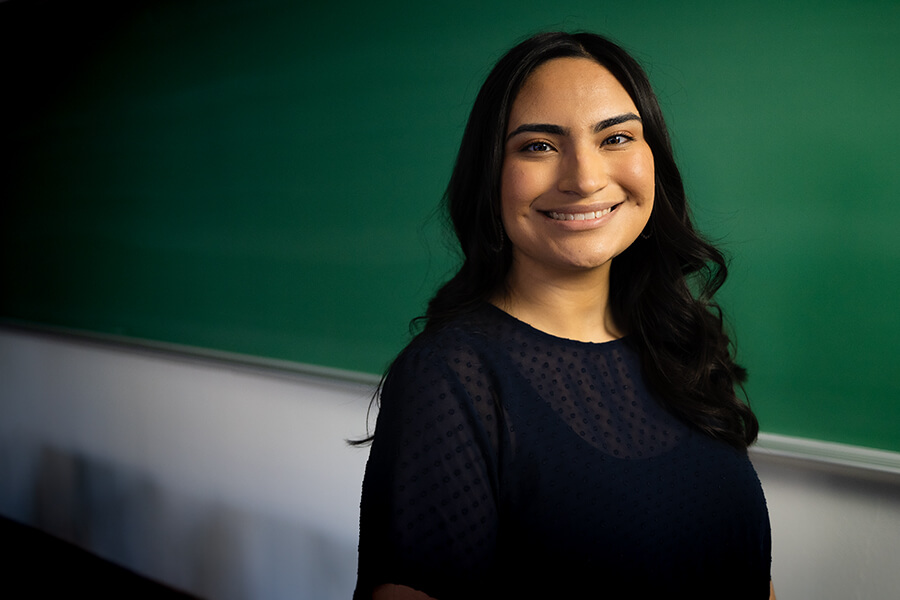 To serve the public, Salas said it's important to know your public. As a Hispanic-Serving Institution (HSI) in a city with a majority of its population identifying as Hispanic, St. Mary's recently added an undergraduate certificate and minor in Mexican American Studies.
"The classes have inspired me and given me more passion to serve my community in San Antonio," said Salas, who is in the certificate program. "They've played such an important part in making me realize just how big of a role Mexican Americans played in forming this country."
In San Antonio, 64.2% of residents identify solely as Hispanic, according to numbers from the 2020 U.S. Census. In Texas, 39% of residents identify as Hispanic and about 60 million people in the United States identify as Hispanic.
"I never learned any of this in high school. I never learned any of my history or culture prior to taking these classes."

Sierra Salas, junior Political Science major
Professor of Political Science Arturo Vega (B.A. '81, M.A. '83), Ph.D., said the purpose of both the minor and the certificate is to help not just Mexican American students understand their heritage, but also to help students of other backgrounds gain insight into Mexican American culture.
"If you want to work in this town, if you want to work in this community, if you want to work in Texas, you need to know something about this population," Vega said.
As a Mexican American, Salas said the majority of what she has learned during the courses is new to her, such as the history of Dolores Huerta and her work alongside Cesar Chavez in civil rights and farmworkers' rights.
She also learned about political leader Choco Meza (B.A. '77), who was involved in local and national politics, and Willie Velásquez (B.A. '66), organizer of the Southwest Voter Registration Education Project, the oldest nonpartisan Latino voter participation organization in the United States.
"I never learned any of this in high school. I never learned any of my history or culture prior to taking these classes," Salas said. "I'm glad I have these classes to open up my eyes."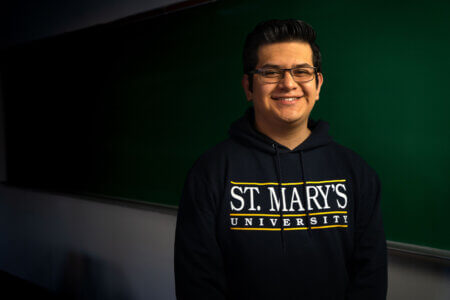 Fellow St. Mary's student Emmanuel Sanchez, a native of Brownsville, came to the University not only for the small class sizes, but also because of its designation as a Hispanic-Serving Institution.
As a junior Political Science major and member of the Hispanic Student Union, Sanchez said the courses in civil rights coincide with his minor in Mexican American Studies. He aims to get a master's degree in Public Administration and then attend law school to focus on immigration law.
When his father applied to become a naturalized citizen, Sanchez said the process was slow and cumbersome. But it didn't stop Sanchez's father from instilling pride in them for being American and Mexican American.
Even in a majority-Hispanic city like Brownsville, Sanchez said Mexican American history is not taught well in schools.
"There isn't just one version of history," Sanchez said. "If we're not fully educated in terms of our history, then how are we going to move forward?"
Sanchez encourages all students to take a Mexican American course if they can, especially if they plan to live in Texas.
"Even if you're from a population that is majority Mexican American, it's important to not forget about these struggles," Sanchez said.