by Melanie Skaggs (M.A. '02)
"I begged them to let me live at the Baptist Children's Home."
At age 12, desperate for healthy home life, Tina Flores (M.Jur. '17) fought to be in foster care. Her mother was battling drug addiction, unable to care for Flores and her siblings. Her father was in prison. They had no food, electricity or hope. Even as a child, Flores knew she had to escape the toxic environment and sought emancipation from her parents to begin her life anew.
"Once I realized I control my destiny, I had to leave and learn how to live a better life," Flores said.
Flores instinctively knew education was a key to improving her future, but her learning curve was steep. She lacked the mindset, self-confidence and basic comprehension of the content presented in textbooks or a classroom to take a college course.
"I think people get discouraged and quit because they are not willing to take the remedial classes necessary to gain the skills to succeed in a college-level class," Flores said. "When I began my career with the City of San Antonio in 2001, I only had a GED diploma."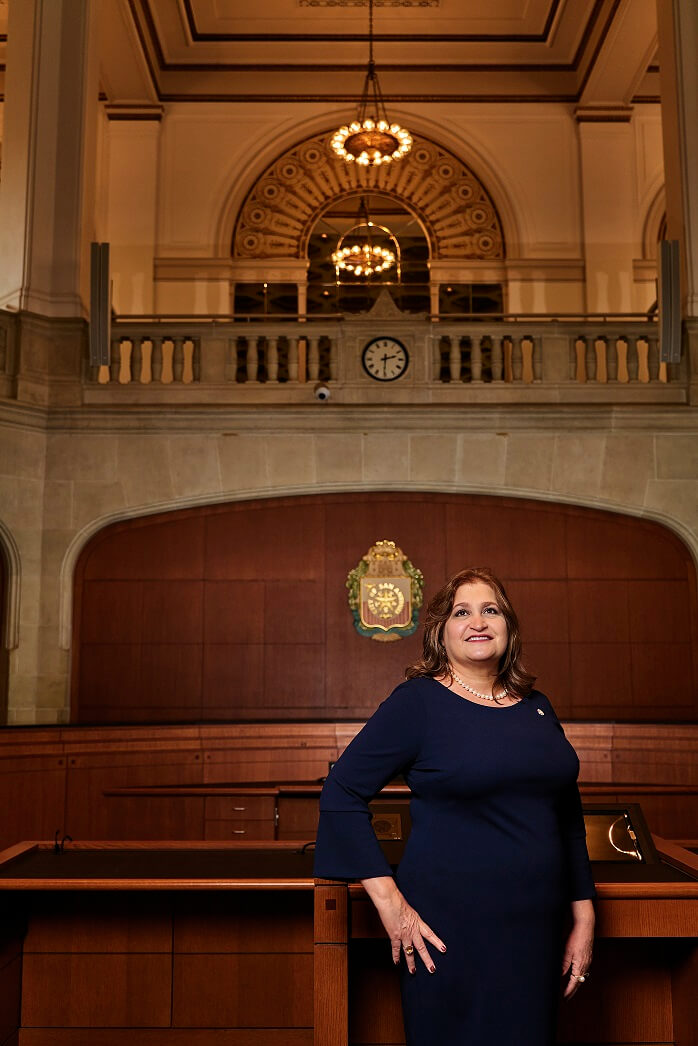 However, Flores was just starting her educational journey. After working toward an undergraduate degree on a part-time basis for over 10 years at the University of the Incarnate Word, Flores finally graduated and quickly thereafter attained a Master of Business Administration at UIW.
Flores applied to the Master of Jurisprudence (M.Jur.) program at the St. Mary's University School of Law when, after 16 years of working for the City, she ascended to Assistant City Clerk.
"I needed a foundational knowledge of the law and the confidence to sit at a table with attorneys and understand the discussion," said Flores, whose M.Jur. included a dual concentration in Compliance Law and Commercial Law.
"We struck gold when we recruited Tina to our inaugural M.Jur. class. She is driven, hardworking and one of the friendliest students we have seen come through the program," said Colin Marks, J.D., the School of Law's Associate Dean for Innovative Programs and Strategic Partnerships and the inaugural Director of the Master of Jurisprudence Program, now celebrating its five-year anniversary.
"I love St. Mary's and credit everyone in the M.Jur. program for helping me succeed," Flores said. "As a single mother going back to school and supporting four children, it was hard."
Flores' career began to skyrocket after completing the M.Jur. She received a promotion to Compliance Auditor, advanced to Deputy City Clerk and, in September 2020, was appointed to the prestigious position of City Clerk. Only four positions in the City of San Antonio are appointed by the Mayor's Council and "obtaining a M.Jur. helped them make their decision to hire me," she said.
"I credit my education at St. Mary's Law for opening these doors for me because knowing the law is critical to the work I do."

Tina Flores
Today, Flores positively impacts the lives of the community she serves through initiatives like the San Antonio ID Recovery Program. This program helps homeless people obtain their birth certificate at no cost, which is necessary to get a Social Security or identification card and, in turn, allows them to receive essential services like housing or food stamps.
"My upbringing helped me learn about unfair circumstances, how to persevere and pay it forward. If people do not have an education, they do not have a seat at the table. Now, I bring their perspective to the table as a public servant and feel I am making a difference."

Tina Flores